7 Food truck design projects you need to take care of before launch
While your food should always do the talking, your food truck needs to look the part so that you can attract potential customers over to your vehicle in the first place.
From eye-catching graphics or vehicle wrap to funky menus, there are plenty of design projects you need to take care of before launch day, and you should allocate sufficient time to getting these projects right in your food truck business plan.
Here are seven food truck design projects you need to check off your list before heading out for your first day.
#1: Vehicle Wrap/Custom Graphics
There's perhaps no more important branding element of your food truck than the look of the truck itself. If you don't stand out on the street or from competitors positioned nearby, you will have a hard time building a loyal following of customers.
A vehicle wrap is one of the most effective ways to ensure your food truck stands out in a sea of sameness. And, when done right, it can be one of the most cost-effective branding investments you make.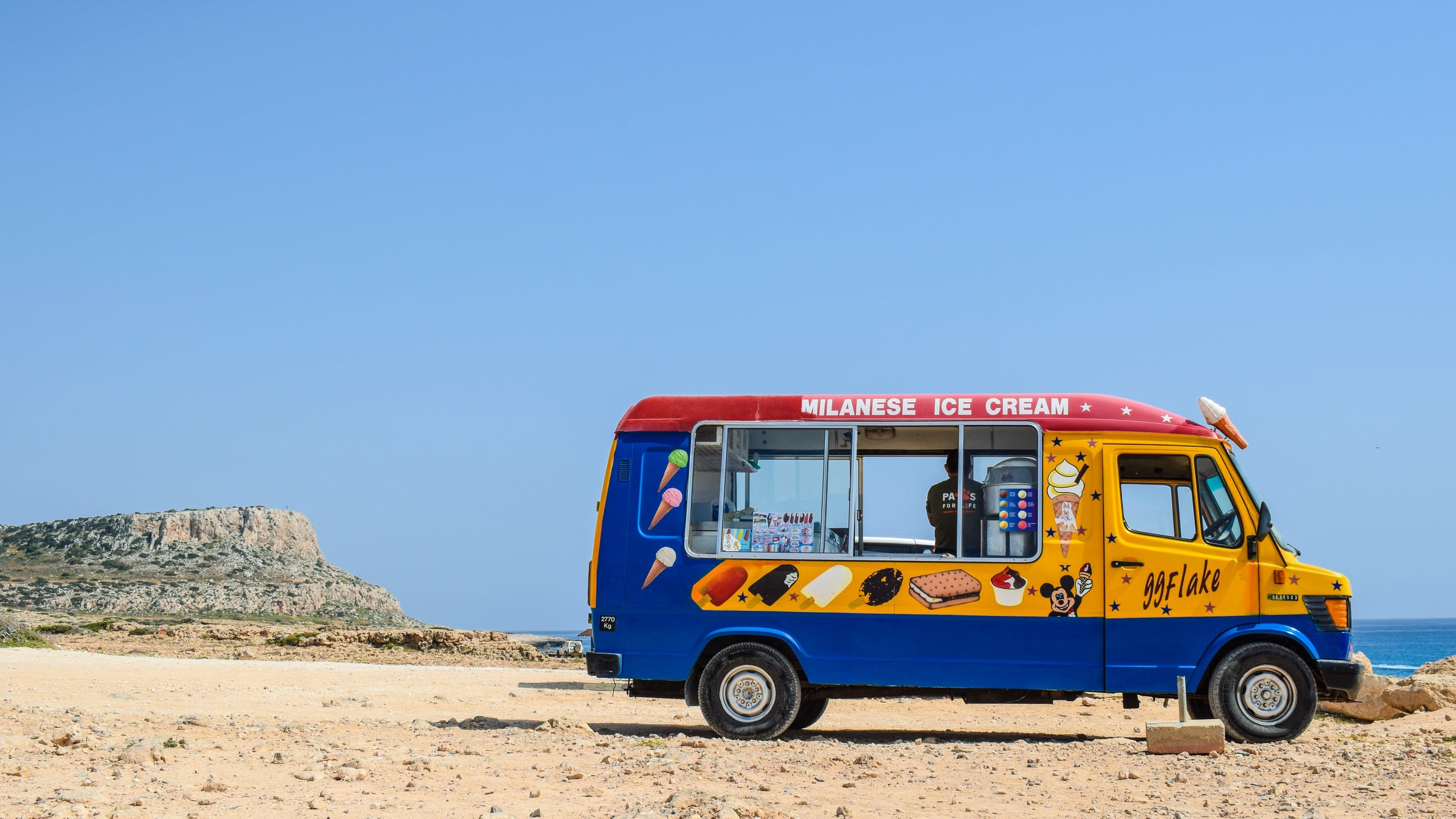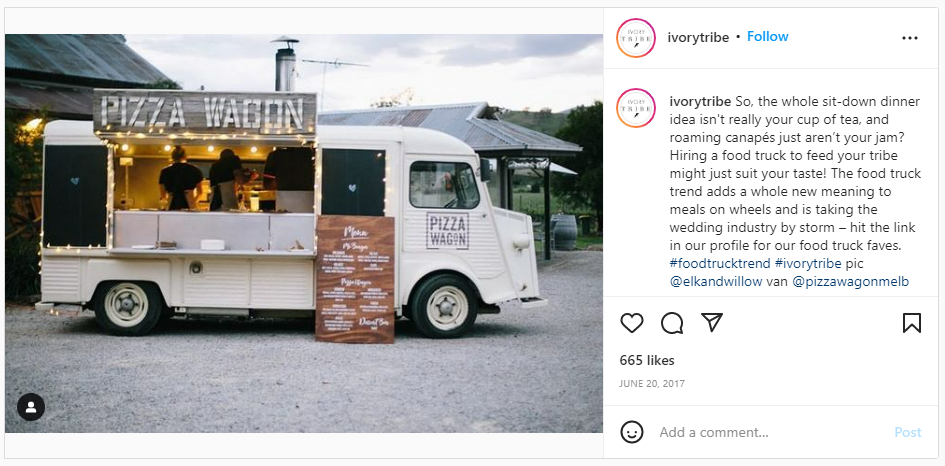 If you're not planning on doing a full vehicle wrap, you should at least consider custom graphics for your food truck. This could be anything from a simple logo to more elaborate designs that help tell your brand's story.
No matter what route you go with graphics or wraps, make sure it's something that accurately reflects your brand and will appeal to your target market.
#2: Menus
Your menus will tell potential customers a lot about your business. Think about the overall look and feel you want to create for your food truck, and make sure your menus fit in with that vision.
For example, chalkboard menus could be a great option if you're going for a more fun and approachable vibe. On the other hand, digital menu boards may be a better bet if you're shooting for a sleek and modern look.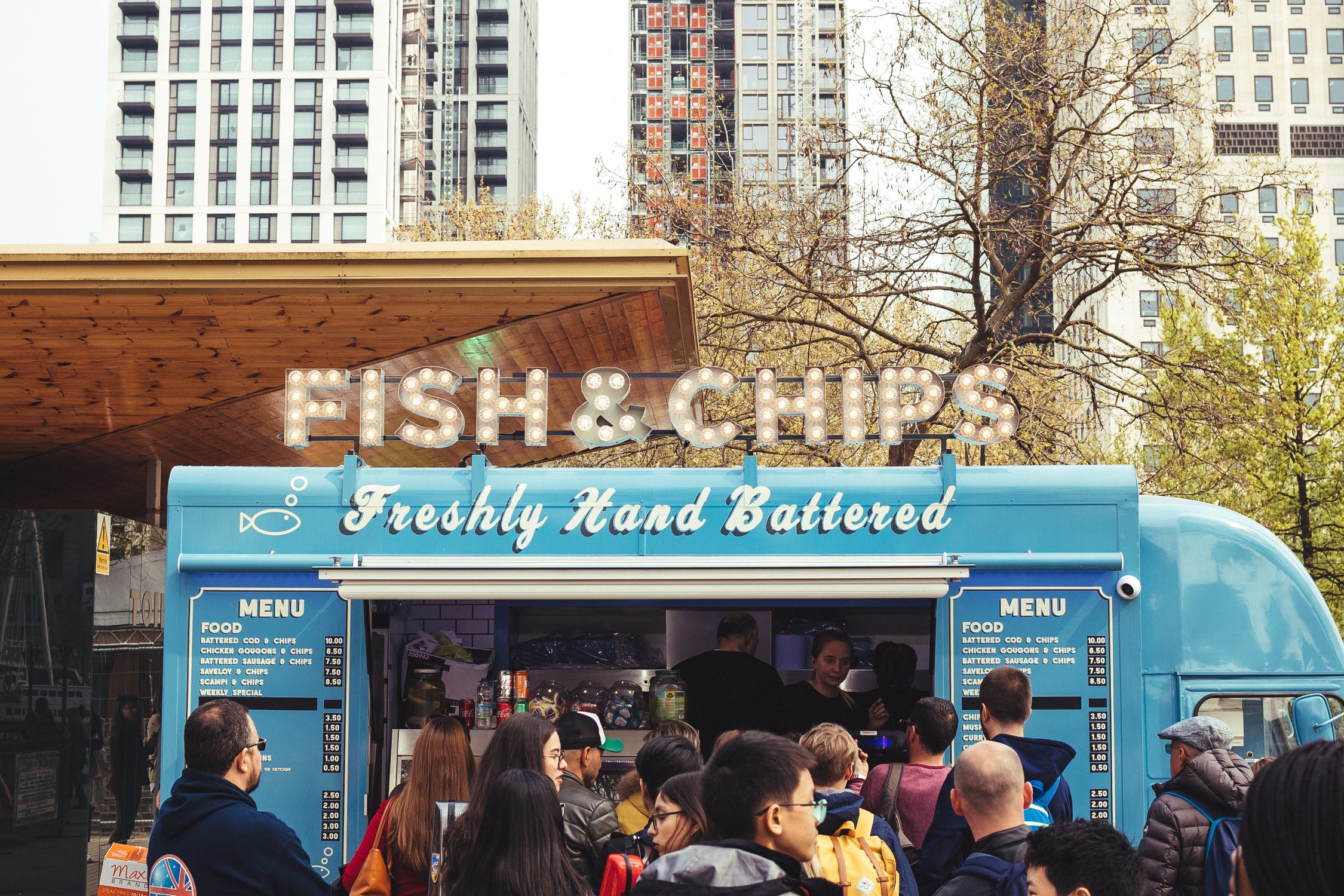 In terms of content, make sure your menu is easy to read and understand. Use high-quality photos where appropriate, and be sure to list any allergens or dietary restrictions that may be applicable.
Lastly, weigh up whether you need smaller paper menus that customers can take away with them or if larger menus posted up near your ordering window will suffice.
#3: Seating and Décor
If you're planning on offering a seating area attached to your food truck pitch, it's essential to consider the overall design and décor of the space.
Your seating area should be comfortable and inviting, with enough seating to accommodate your busiest times. It should also be in keeping your food truck's overall theme and branding.
When it comes to décor, think about what kinds of things will make your outdoor dining space feel like an extension of your food truck. For example, if you have a beachy brand, you could use sand buckets as planters or seashells as décor. If your truck is known for its gourmet coffee, you could use vintage suitcases as side tables or hanging plants to add a touch of greenery.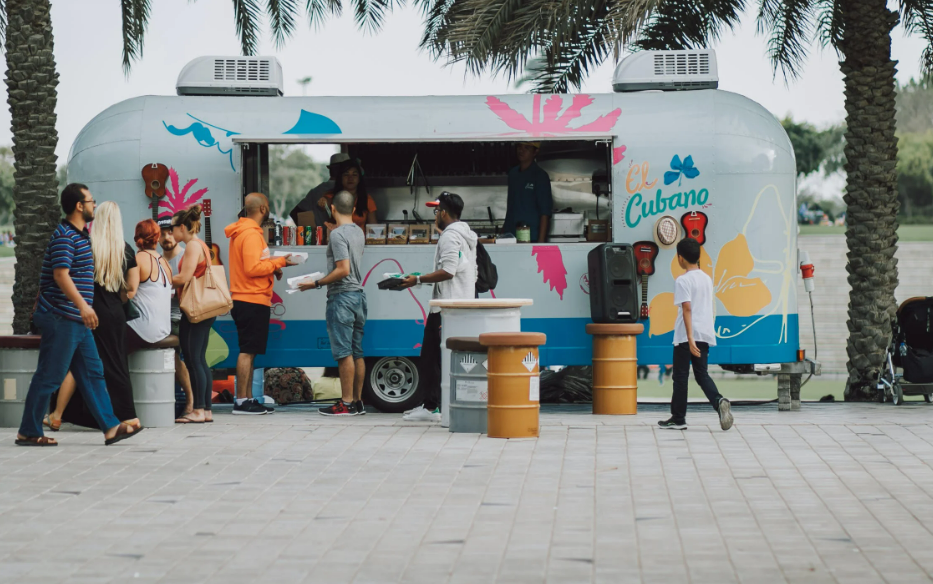 #4: Food Truck Business Card
One of the best ways to grow a fledgling food truck business is through word-of-mouth. A food truck business card allows impressed customers to easily pass your details on to their friends, colleagues, and family members. It also gives you an effortless way of promoting your food truck to anyone you meet.
When designed well, a food truck business card can help customers remember your brand and what you're known for, so make sure you spend the necessary time to get it right.
Also, make sure your card includes key information like your truck name, logo, contact details, social media handles, and a brief description of what you serve.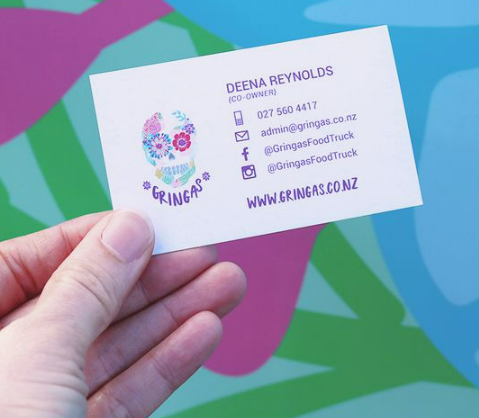 source: designbycheyney.com
#5: Uniforms
An often overlooked aspect of food truck branding is uniforms. When designing your uniform for yourself and fellow staff members, it's important to consider how they look and their ease of use.
On the one hand, you want your uniforms to look good and reflect your brand in some way. But they also need to be practical, comfortable, and easy to clean so that they don't hamper operations in any way. A good uniform should also help customers identify your staff members quickly, so they know who to approach when they need assistance.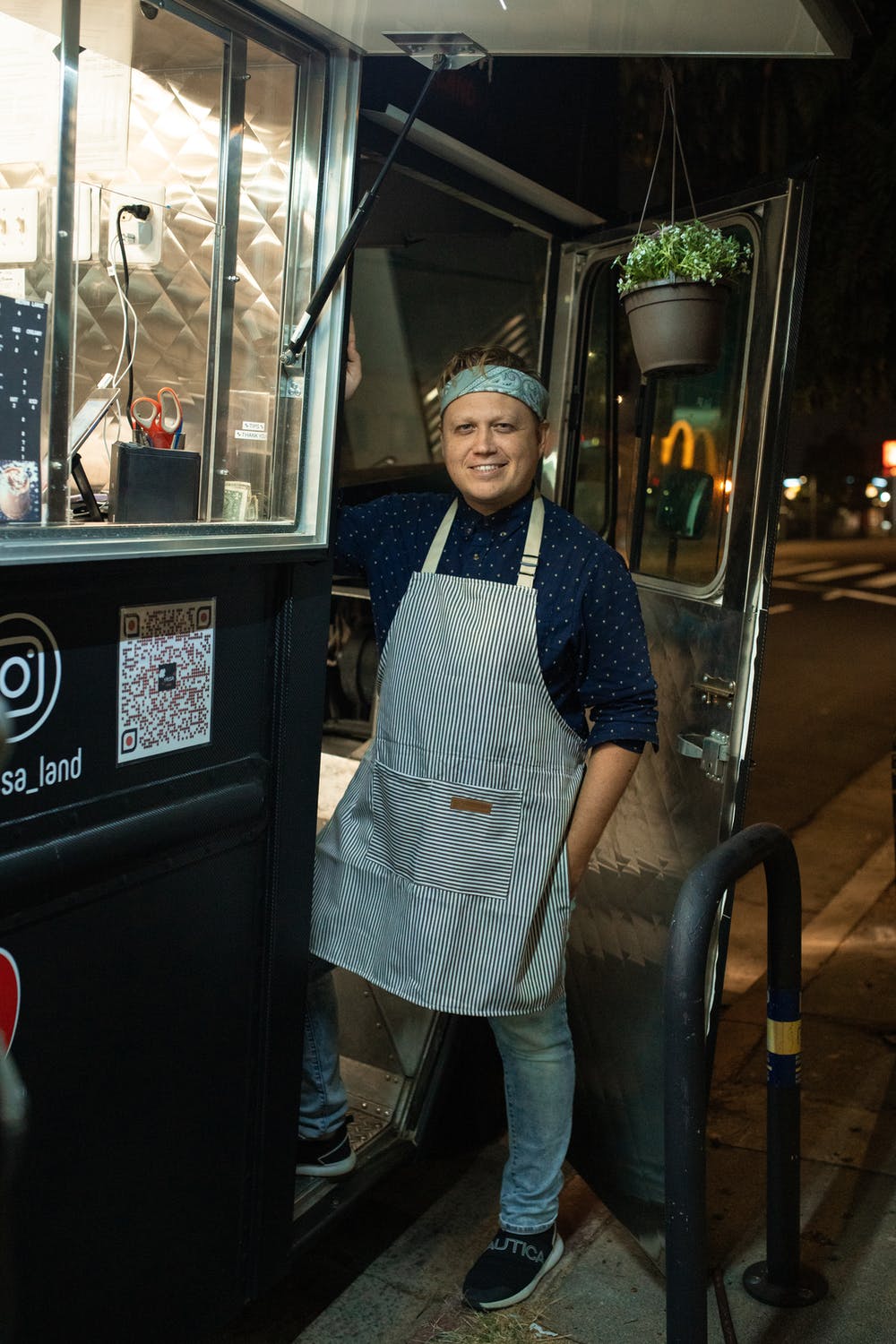 In short, take the time to design uniforms that both look good and are functional, so you and your team can focus on serving up great food.
#6: Food Containers/Serveware
The look and feel of what your food is served is a vital element of your food truck's branding.
Your food containers and serveware should be in keeping with the overall theme of your food truck. Ideally, you want someone viewing a customer eating your food on the street to immediately be able to identify the food truck from which the delicious dish came.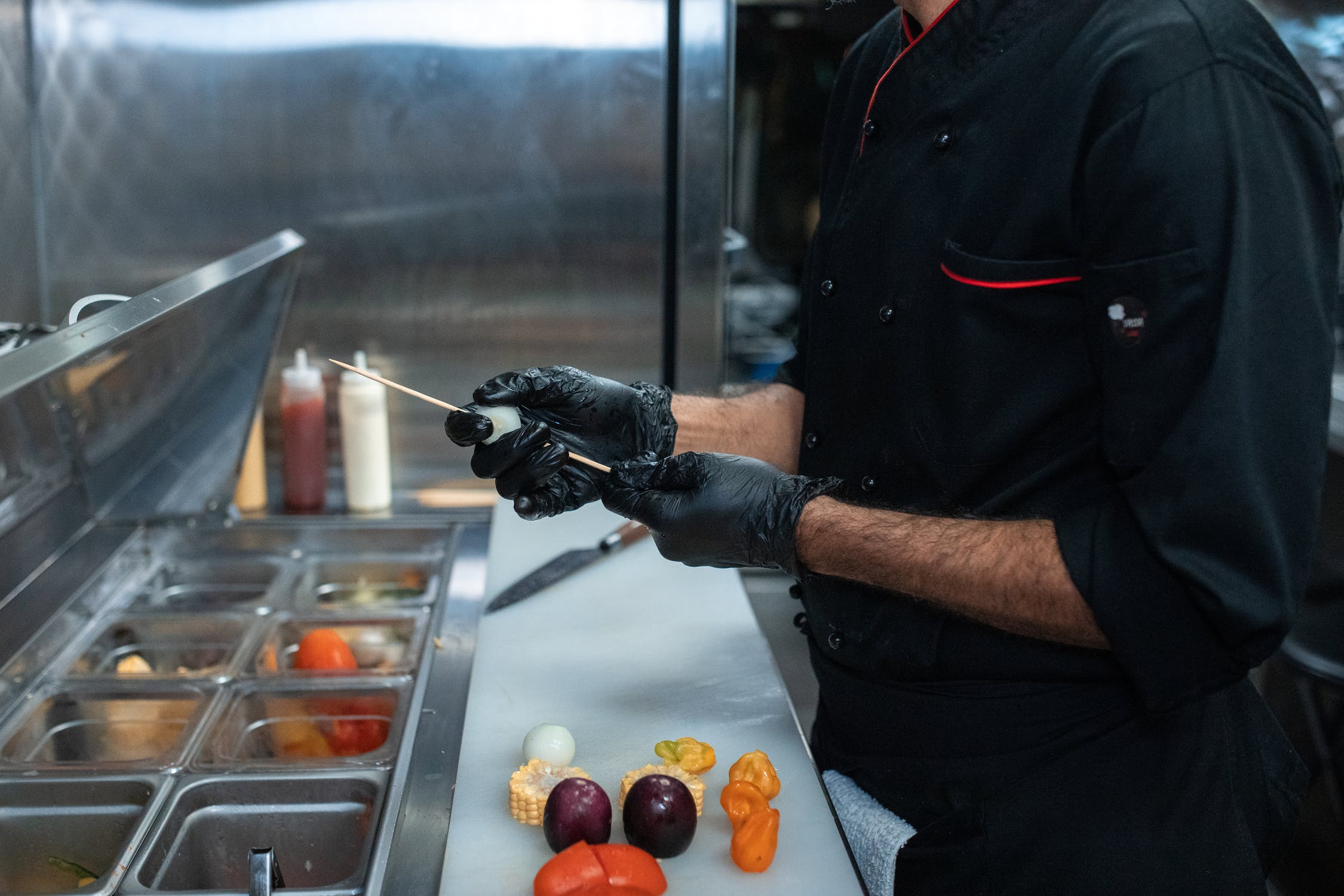 They should also be practical and fit in with your operations. For example, since you're mostly doing take-out orders, you'll need sturdy containers that can withstand a bit of jostling around and retain the heat of your food for as long as possible.
Lastly, don't forget about the little accessories that can make a big difference, like branded napkins and utensils.
#7: Food Truck Signage
Your food truck's signage is one of the most critical elements of your branding, as it's often the first thing potential customers will see. Your signage should be eye-catching and reflective of your brand. It should also be legible from a distance, so people passing by can easily read it and understand what you're all about.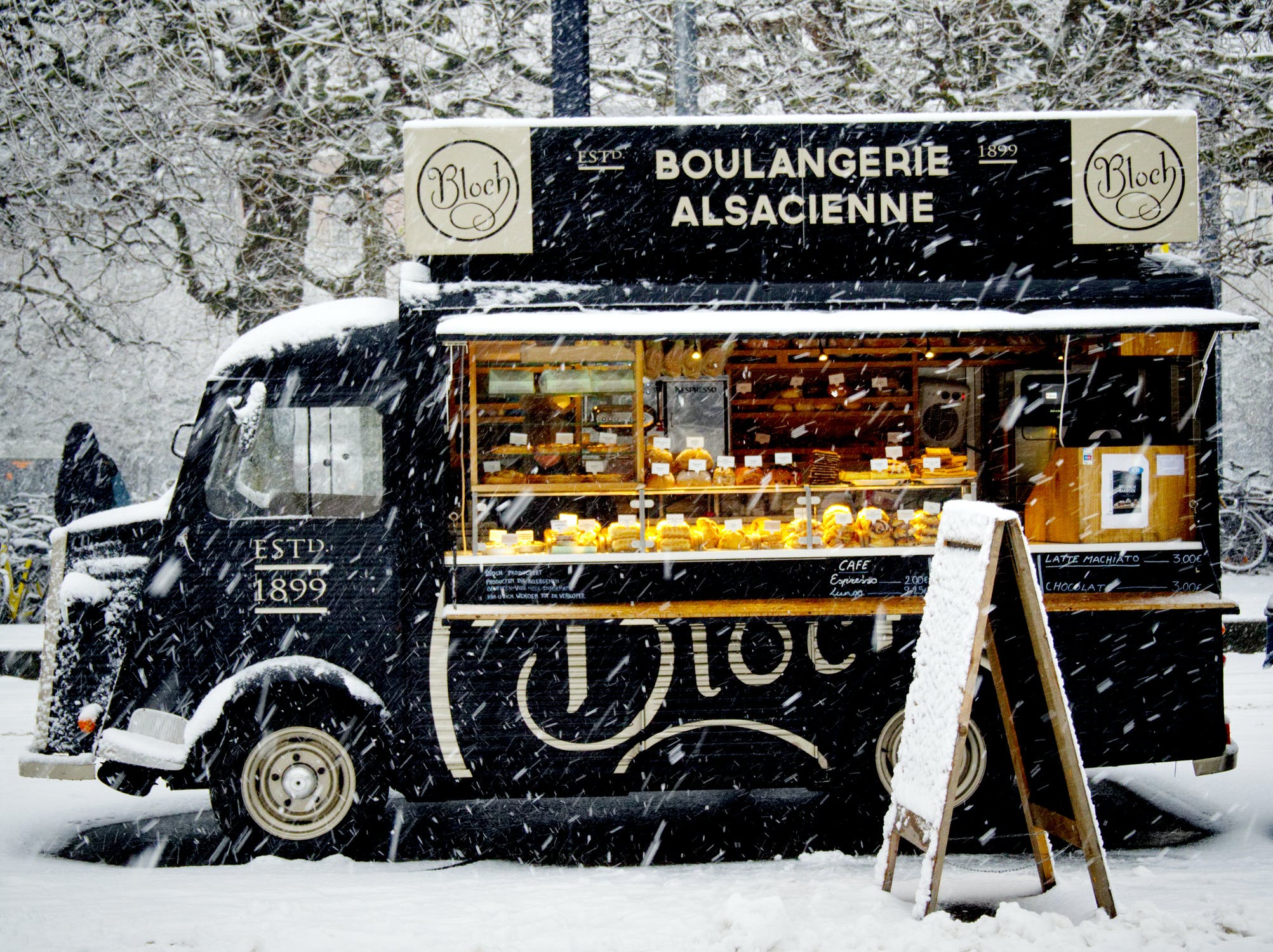 If you're struggling to develop the right design for your food truck signage, consider enlisting the help of a professional designer. They'll be able to help you create something that's on-brand and effective.
Speak to POSTRON Today Regarding Food Truck POS Solutions
With these seven design projects in mind, you're well on your way to branding your food truck for success. Just remember to keep your audience and overall theme in mind with each project, and you'll be sure to create a cohesive brand that customers will love.
Once you've completed your design projects, your attention will turn to your food truck POS to ensure you can take payments for your delicious food concept.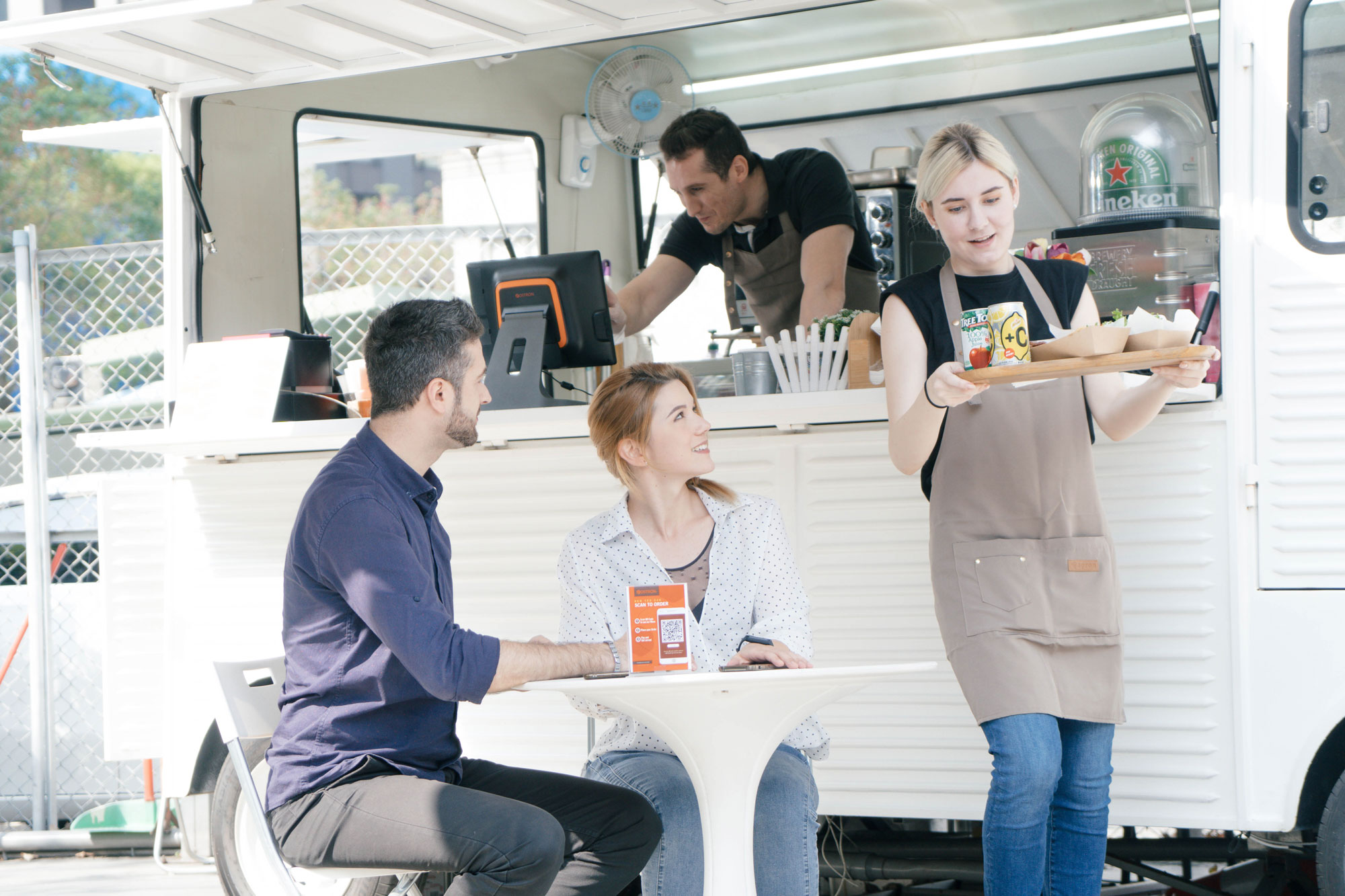 Click to see our solution for food truck ↑
At POSTRON, we offer mobile POS solutions, including handheld POS terminals that make it easy for you to take orders and payments on the go. We also offer a range of features and add-ons that can be customized to suit your specific needs, so you can streamline your operations and focus on delivering great food to your customers.
To learn more about our food truck POS solutions, speak to one of our advisors toll-free at 833-767-8766 or book your free demo today.