The complete list of commercial kitchen equipment for restaurants
If you're looking to equip your kitchen with the best commercial cooking equipment, then look no further.
In this article, we will provide a comprehensive list of essential kitchen tools for any restaurant. From ovens and gas ranges to mixers and blenders, we will cover everything you might need for your dine-in restaurant.
So whether you're opening up a new restaurant or are looking to update your existing kitchen setup, read on for the must-haves.
#1: Ovens
Ovens are vital pieces of kitchen equipment used in dine-in restaurants. The specific type of oven will depend on what you intend to use it for. While most establishments will need a conventional oven, those with a high amount of baked goods might want to invest in a convection oven. Brick ovens and conveyor ovens may also be possibilities.
The key factors you need to keep in mind include the size of the oven, the function, and the quality. Since ovens are expensive, you might well opt for a second-hand model with limited years of use.
#2: Ranges and Ventilation
With the ovens taken care of, the next vital piece of equipment will be your cooking range and the associated ventilation requirements to ensure conditions in the kitchen remain comfortable for your kitchen staff.
The two principal choices are gas ranges and electric ranges. Gas ranges have the advantage of being able to heat up quickly, which can be vital during busy times. Electric ranges are typically cheaper to install and can be easier to keep clean.
When selecting a range, you'll also need to ensure that it is adequately ventilated. This means installing an effective hood and fan system above the range to draw out any smoke or steam, maintain hygiene, and manage airflow and working temperatures.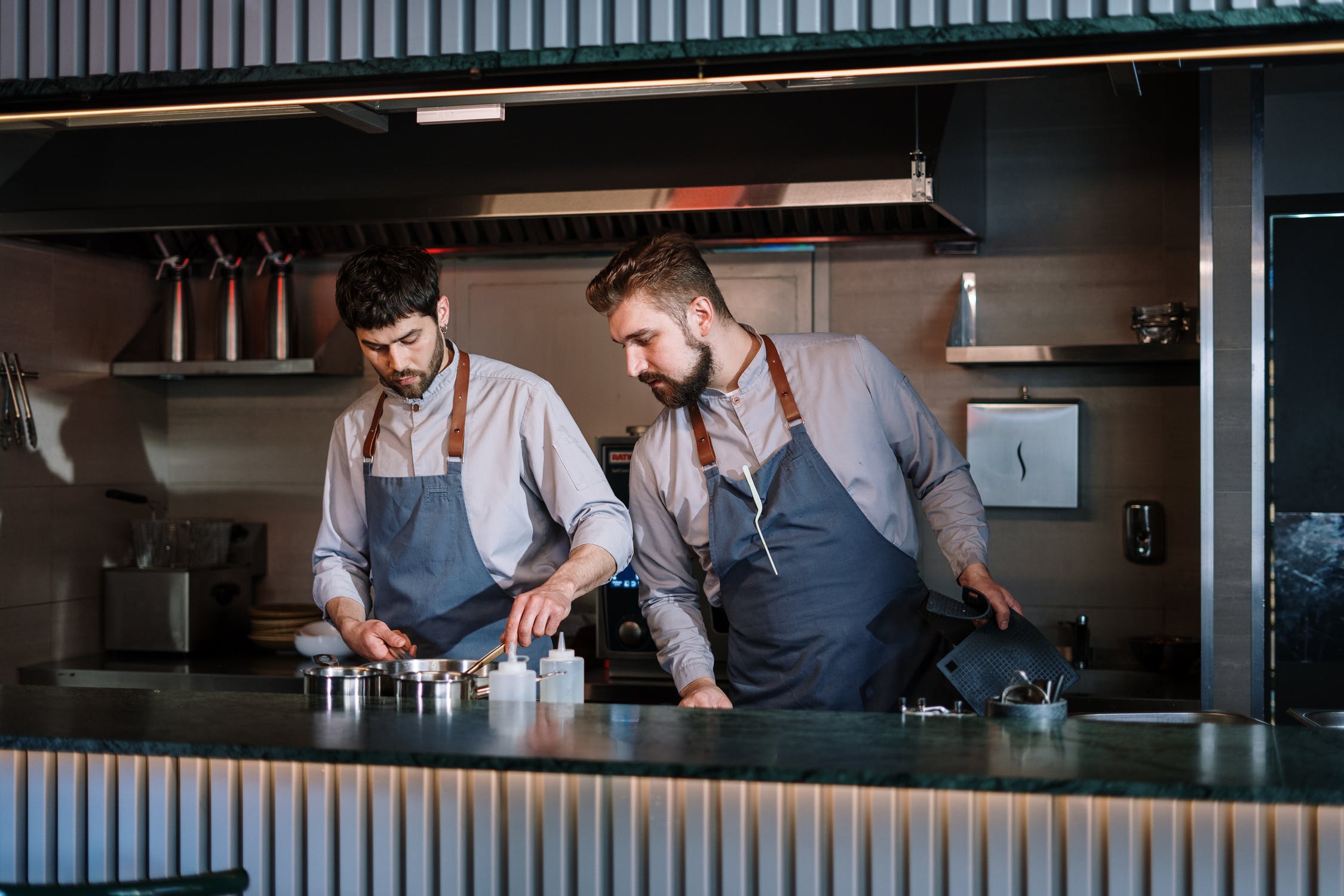 #3: Food Processors
Food processors perform several functions in a restaurant, including chopping, slicing, dicing, and pureeing. They can be used for both wet and dry ingredients, making them a versatile piece of kitchen equipment.
There are a number of factors you need to consider when purchasing a food processor. The most important is the size – you'll want something big enough to handle your needs, but not so big that it's cumbersome to use or takes up too much room.
There are also specific types of food processors, such as continuous feed food processors, that may be better suited to your specific style of restaurant. So make sure to do your research before purchase.
#4: Mixers
In contrast to food processors, mixers bring ingredients together rather than chopping them up or breaking them apart. Not all dine-in restaurants have them. However, if you make a lot of dishes using dough mixtures (e.g., a pizzeria), you will probably need to invest in a commercial mixer.
As with all appliances, they come in different styles and sizes, and you need to make sure that the mixer you choose is suitable for the volumes you will be working with.
#5: Food Prep Counters and Cutting Boards
Chopping ingredients is one of the most common activities in a commercial kitchen, so you need to invest in sturdy prep counters and cutting boards that are up to the task. Stainless steel counters are probably the way to go, as they're durable, easy to clean, and won't absorb food bacteria.
As for cutting boards, you'll want to get ones that are made of plastic since they're the easiest to clean and sanitize. Make sure to get a few different sizes and shapes, as this will give you more flexibility when preparing meals.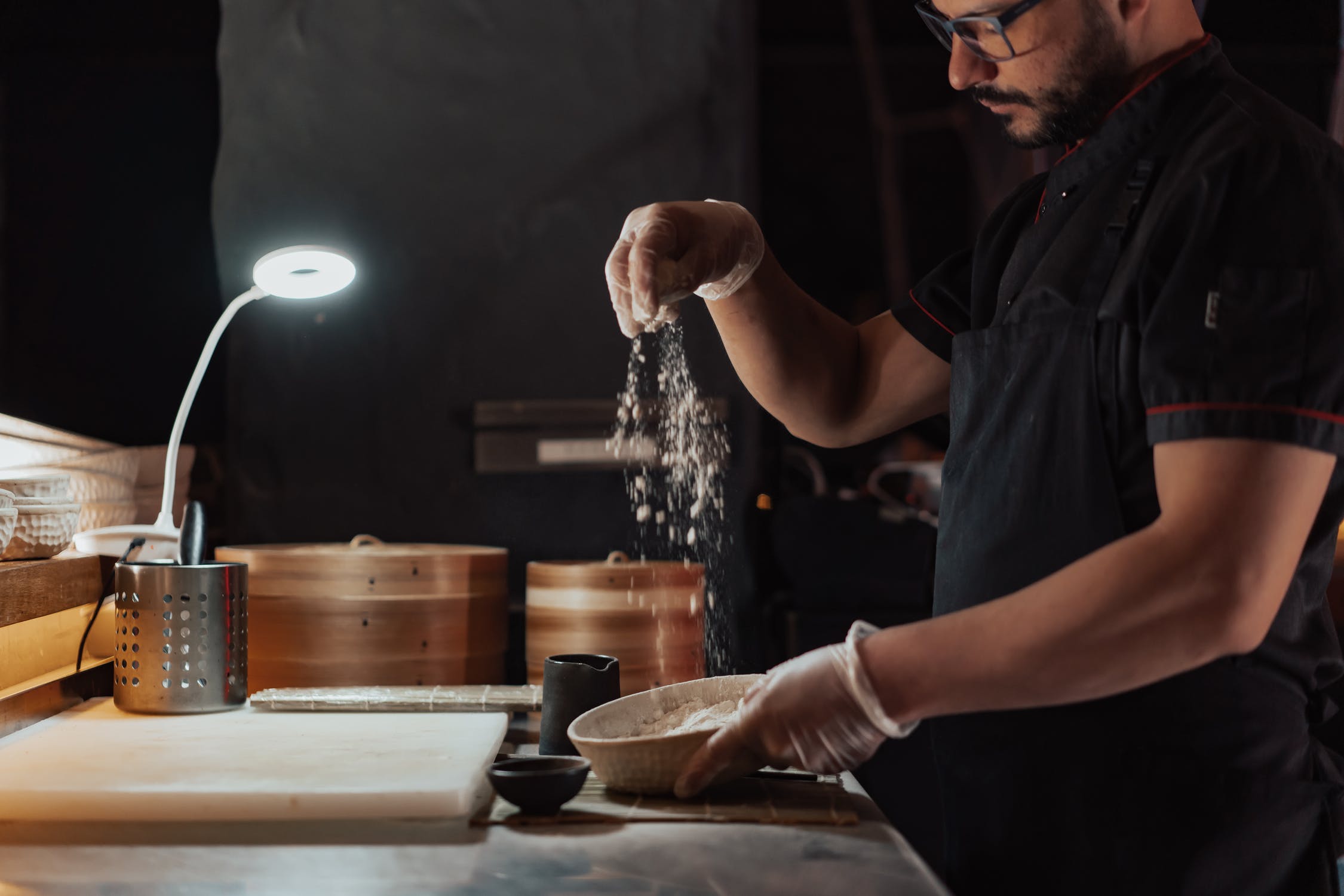 #6: Refrigerators and Freezers
No restaurant can store fresh ingredients for long without refrigeration units and freezers. Most kitchens have the benefits of a walk-in refrigerator and freezer, which offer a lot of space for storing food. However, smaller restaurants may need to make do with standard kitchen refrigerators and freezers.
When selecting refrigeration units, you'll need to decide on the right size and type. A regular kitchen refrigerator should be fine if you're only using them for storage. But if you need to store large quantities of food or prepare meals in advance, then a commercial refrigerator or freezer might be a better option.
Depending on your specific setup, you might also require a condenser, which essentially controls the temperature of your refrigerators or freezers.
#7: Cooking Equipment
Of course, it goes without saying that you need cooking equipment for your dine-in restaurant. There are so many items you might need during the preparation of your meals that it's difficult to list them all here.
However, you'll likely need at least the following:
Pots and pans of varying sizes (with lids)
Spoons for mixing and tasting
Chef's knives
Mixing bowls
Whisks
Spatulas
Ladles
Tongs
Baking pans
Sheets and roasting pans
Towels
Rags
#8: Serveware
In addition to cooking equipment, you will need everything for the customer side of the restaurant dining equation. From plates and glasses to cutlery and table linens, your kitchen equipment list needs to include things you need for front-of-house activities.
Expect to purchase at least some of the following:
Dinnerware: plates, platters, bowls, serving plates, and bowls.
Glassware: wine, cocktail, beer, water, dessert, and specialty glasses.
Cutlery: knives, spoons, forks, serving utensils
Accessories: charger plates, ramekins, sauce cups, dessert dishes, plate covers, bread and butter plates, coffee mugs, teacups, and saucers.
Displayware: baskets, appetizers, and tasting dishes.
Linens: cloth napkins and tablecloths.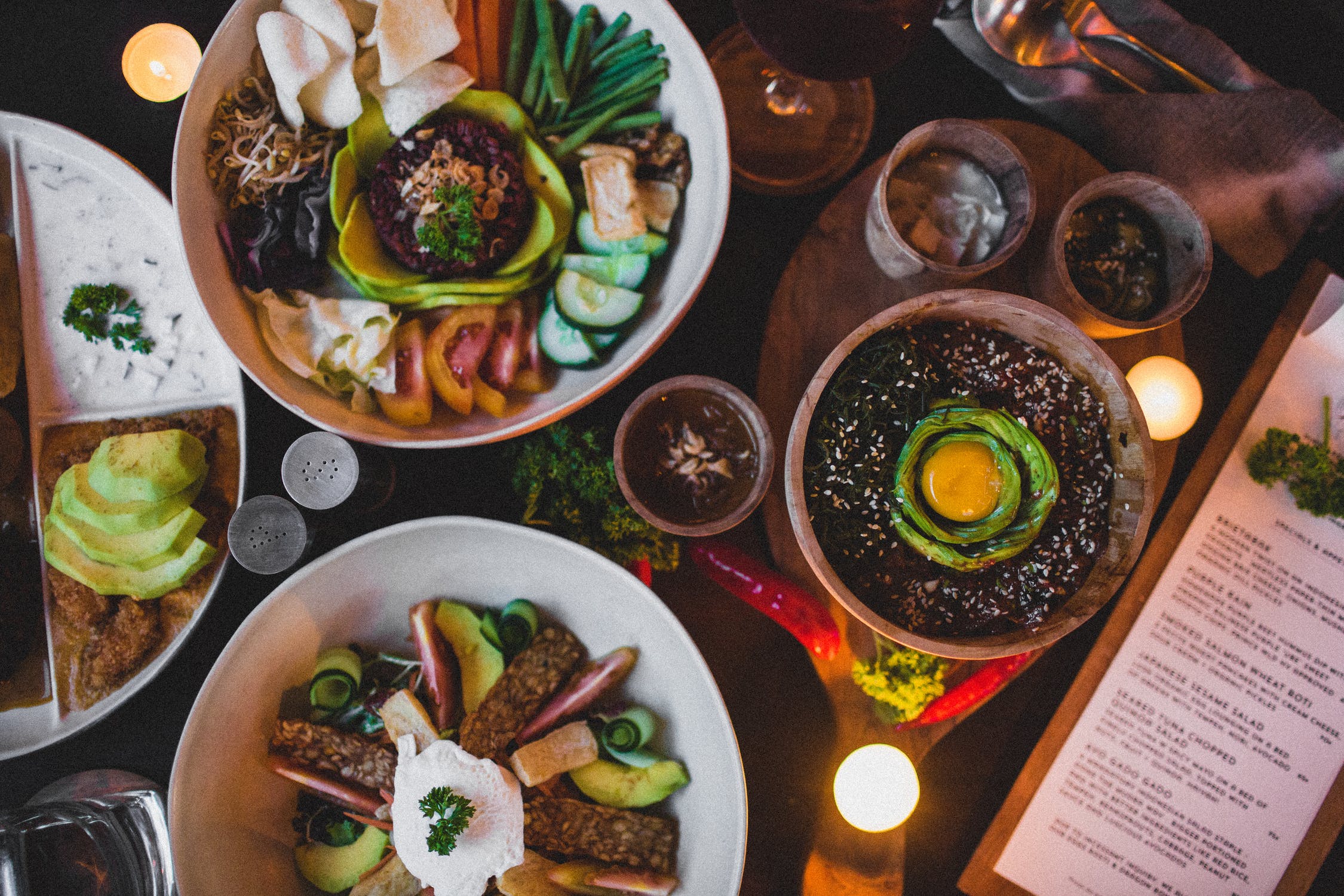 #9: Storage Racks and Shelving
Obviously, all that cooking equipment and serveware must be stored somewhere when not in use. That's why you need to invest in well-thought-out storage racks and shelving units. In many cases, these will act as a permanent feature of your kitchen layout, so you need to make sure you take the necessary time to understand where they should be positioned.
In terms of materials, there are several options, and your choices may be limited by your available budget. Still, stainless steel is once again a robust choice for the reasons mentioned above.
#10: Sinks
Sinks play a vital role in the dine-in restaurant kitchen. They are involved in crucial processes such as dishwashing, food preparation, and hand washing. You may even need to have a minimum number of sinks installed to meet the requirements of local health and safety regulations.
As with other kitchen equipment, the size and number of sinks you need will be determined by the specifics of your restaurant.
#11: POS Terminal and Kitchen Printer
Your kitchen needs a system of handling orders, managing workflow, and acknowledging when dishes have left the kitchen. Your kitchen POS terminal should come with a kitchen printer for tickets and will ideally seamlessly handle orders from all channels, including your restaurant's online order system, to help your kitchen staff keep on track.
With POS solutions from POSTRON, servers can use their handheld POS device to send orders to your kitchen display system in real-time, speeding up efficiency and reducing bottlenecks.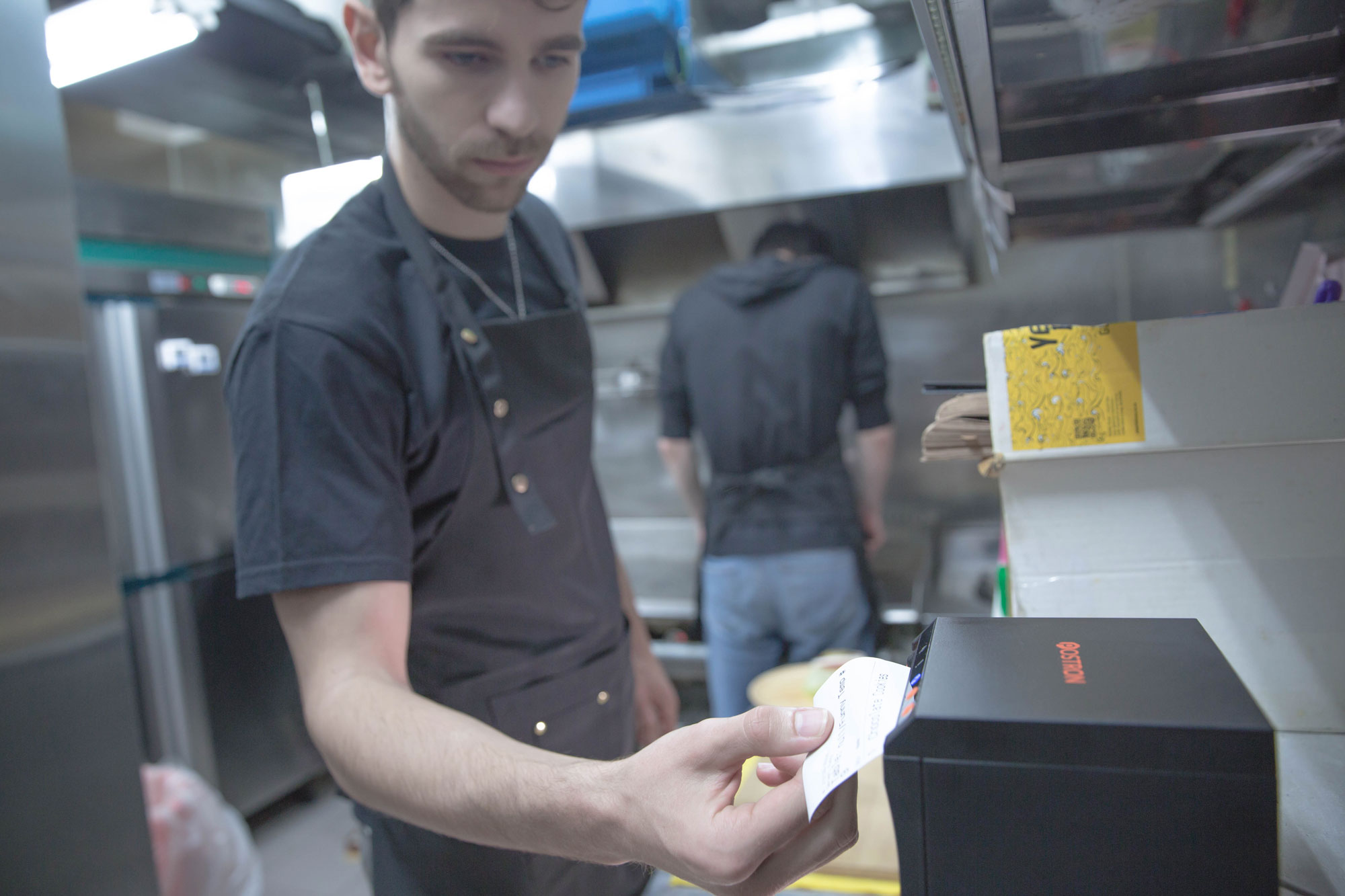 #12: Microwave
While you won't likely be doing the bulk of cooking using a microwave, they are helpful for several tasks, such as reheating, defrosting, and steam cooking. Therefore, commercial microwaves are necessary for restaurants where it's impossible to cook every menu item from scratch.
#13: Gas or Electric Grill
A grill is vital when offering cooked meats such as steaks and burgers. While not restaurants will invest in a grill, those needing one will need to think about how much space they may take up in relation to their usage. They are large pieces of equipment, which might put you off if you can manage without one.
#14: Commercial Dishwasher
Irrespective of whether you hire a dishwasher or not, you will still likely need a commercial dishwasher for your plates, glasses, and other serveware. Dishwashers can then clean the pots and pans by hand while the dishwasher performs a cycle.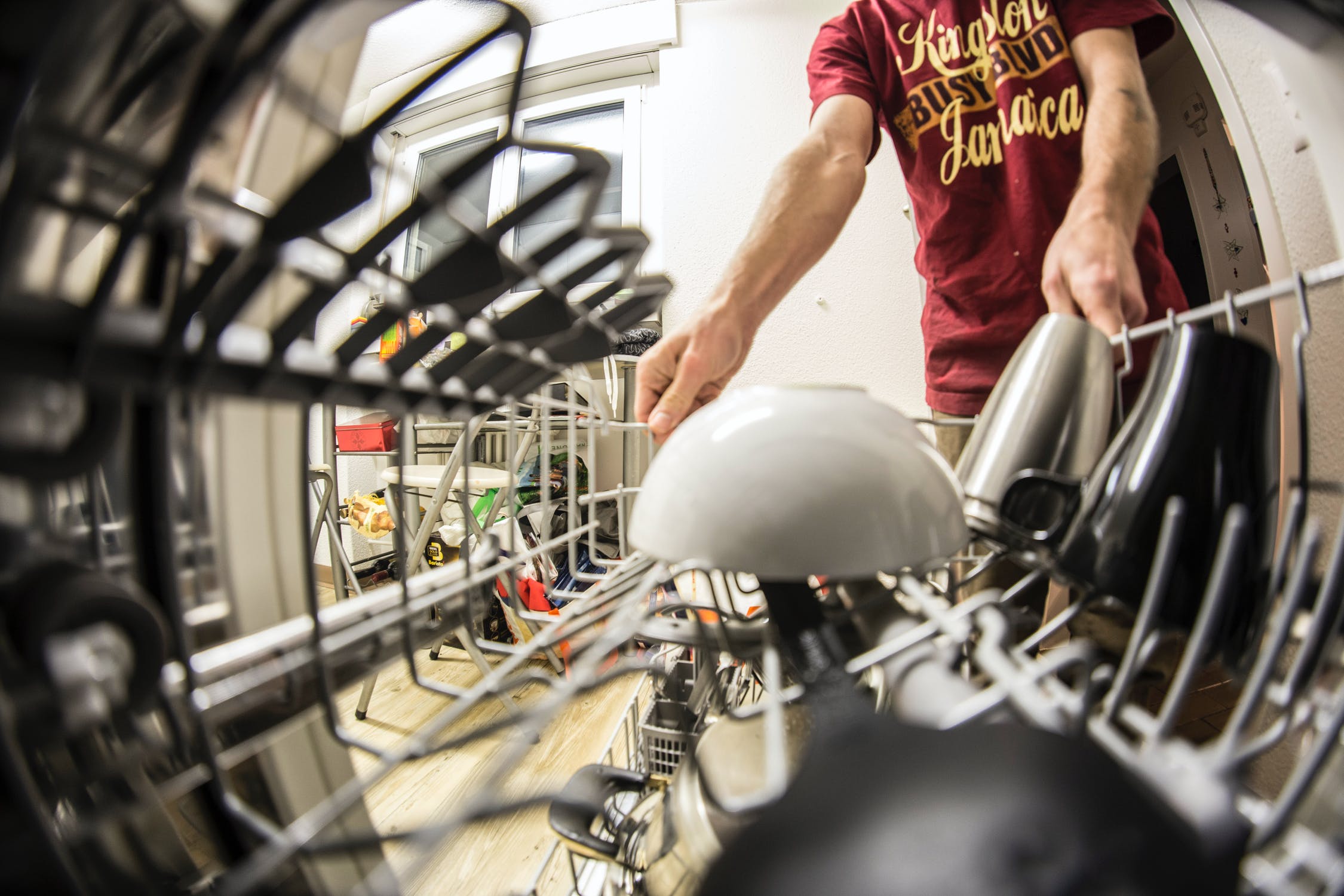 #15: Safety Equipment
Last but perhaps most important is your safety equipment. As part of gaining the necessary licenses and permits, you'll need to have all necessary safety equipment in place.
These items include but aren't limited to:
Fire extinguishers
First aid kits
Rubber floor mats
Wet floor signs
Aprons
Oven mitts
Protective glasses
Hairnets
Security cameras
Make Managing Your Restaurant Kitchen Easy with POSTRON
We make kitchen management easy with our POS solutions. Not only can we provide your kitchen with hardware that updates in real-time to enhance efficiency and customer satisfaction, but our cloud-based POS software allows you to run your restaurant business from wherever you please.
If you would like to learn more about how our technology will benefit your kitchen, please don't hesitate to speak to a member of our team regarding a free demo of our POS solutions.