Restaurant patio season is coming – Here's how you can make the most of it
With spring in full swing and summer just around the corner, restaurants are gearing up for a bumper couple of months as diners continue to return to on-site dining. That's especially the case for establishments with patio sections and outdoor dining areas, which will be in high demand as people look to enjoy the warmer weather.
But, if you haven't started preparations already, what are the best ways to maximize the impact of your outdoor seating area and make the most of patio season? Here are a few tips to get you started.
Invest in Some Good Quality Outdoor Furniture and Spruce up the Décor
If you're going to be accommodating dinners outdoors, then it's essential to have furniture that is both comfortable and stylish.
You can't afford to cobble together picnic tables and fold-up chairs; it needs to be furniture that genuinely enhances the overall dining experience or continues the high standards you set for your indoor dining experience. That doesn't mean that you need to break the bank – there are some excellent mid-range options available that will still give you a stylish and inviting patio space.
And don't forget to invest in your décor either. Adding touches such as low-hanging string lights and vases of fresh flowers will have your diners sharing pictures and videos of your outdoor dining space on platforms such as Instagram and TikTok.
Weatherproof Your Patio Area
While the warmer weather will undoubtedly bring out the alfresco diners among your customer base, you also need to be prepared for the sometimes unpredictable summertime weather.
That means ensuring that your patio area has some form of weather protection, whether it's a retractable awning, parasols, or – if you're really looking to make a statement – a glass-roofed extension.
It's important to remember that bad weather doesn't just mean rain – if it's too hot, your customers will be looking for some respite from the sun. So, make sure you have a plan in place to keep them cool and dry.
If you can't make the necessary changes to fully weatherproof your open-air dining area, then think about developing contingency plans for reseating customers if the weather turns. It might not be ideal, but it's better than losing customers altogether because they got caught in a rainstorm.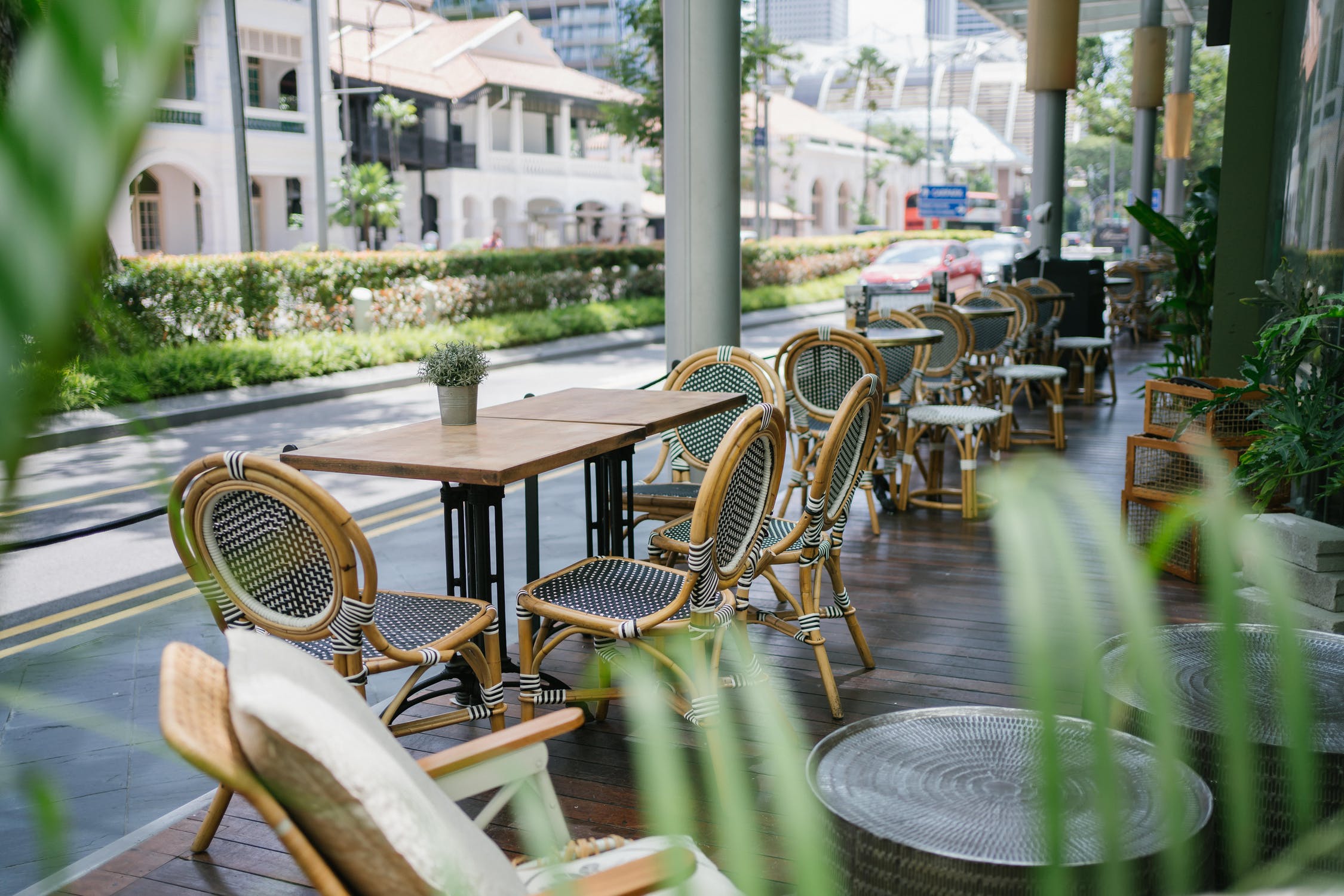 Utilize Technology to Make Outdoor Dining More Efficient
While technology might not be the first thing that pops into your head when creating the perfect patio space for your restaurant, it's vital to consider how you can use it to make the most of impending the alfresco dining boom.
Remember, by opening up your patio, you considerably increase the size of your restaurant floor map. With the current labor shortages, technology is your biggest friend in ensuring your servers can adequately take care of all your guests – both inside and outside.
Solutions such as handheld POS devices attached to the server's belt or placed in their pocket will help streamline table service. By allowing customers to order and pay for their food and drinks at the table, you can reduce congestion, and your servers will be able to take care of more customers in less time.
And, if you're looking to step up your game, you could even consider implementing a touchless QR-code-based restaurant online order system whereby diners serve themselves. With a QR code for a menu (which you could attach to each table with a sticker), diners simply open their smartphone, scan the code, and place their order. Meals and drinks are then brought to them by a server when it's ready, and you enjoy the benefits of payment in advance.
By utilizing technology in this way, you can minimize contact between staff and customers (helping alleviate COVID-19 concerns) and make your patio area more efficient – meaning your servers can take care of more customers, and your guests can get their food faster. It's a win-win scenario.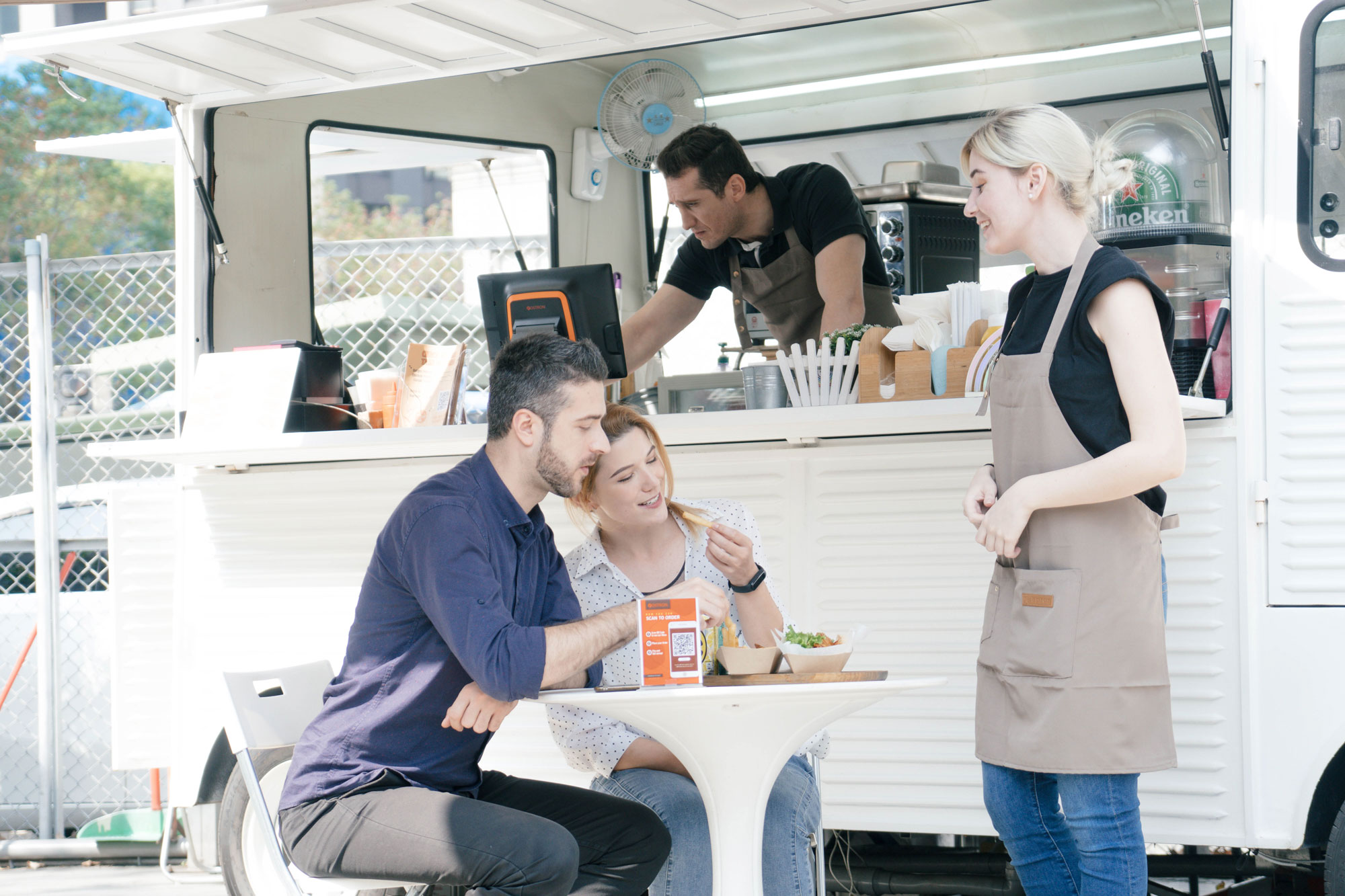 Promote Your Patio Area to the World
It's no use creating a delightful patio area if no one knows it exists. Therefore, be sure to market your alfresco dining space on all your channels, from your website and social media platforms to review sites such as Yelp and Google My Business.
Some restaurants have found success in running targeted ad campaigns specifically for their patio – this is a great way to reach new customers who wouldn't have otherwise known that your establishment had an outdoor dining area.
You could even run special nights that revolve around your revamped space, such as pet-friendly patio nights or pizza nights, whereby you set up an outdoor brick oven and serve wood-fired pizzas to your guests. You could also delve into your data analytics and promote patio specials to your biggest spenders, offering them double loyalty points or a free drink for dining with your alfresco.
By promoting your patio area and making it a destination in its own right, you can encourage customers to visit even when the weather isn't ideal – and that's great news for your bottom line.
Patio Season is Coming – Get Ready with Cutting-Edge POS Technology
With summer fast approaching, now is the time to start thinking about how you can make the most of your restaurant's patio season. By following the tips above and utilizing technology such as handheld POS devices and QR-code-based menus, you can create a patio space that is both efficient and inviting, boosting your bottom line.
At POSTRON, we provide POS technology for restaurants that deliver on both function and form. Our sleek, cutting-edge devices are designed to help you streamline your service and make the most of your patio season through cloud-based features such as QR codes, enhanced data analytics, and online ordering.

To find out more about how our POS devices and supporting software can help you enjoy a profitable patio season, contact us today. We'll be happy to discuss your individual needs and provide you with a tailored solution. Better yet, for a limited time only, all new accounts receive $300 cashback.
To book a free demo of our suite of POS products and claim your cashback, simply call us toll-free at 833-767-8766.