Your complete guide to food truck equipment (including internal layout tips)
Once you have everything in place for your food truck business, the last piece of the puzzle involves securing the right food truck equipment and maximizing the available space to ensure your kitchen on wheels operates as smoothly as possible.
While the specific equipment you need to install will depend on your chosen cuisine style, size of the menu, and the number of staff, this guide will cover some essential items that all food trucks should have as well as provide helpful tips on how to best utilize your limited space.
Food Truck Equipment List: What Do You Need?
There's not a one-size-fits-all approach to food trucks. After all, part of the point of starting your food truck venture is that you will be offering your diners something unique.
That said, there are certain commonalities that all food trucks share, and your truck will need to be equipped with the following:
Refrigeration Equipment
Refrigerators are crucial for food trucks as they allow you to store perishable items such as meat, dairy products, and fresh produce. By keeping them cool, you prolong their freshness before prepping, cooking, and serving them as part of your finished dish to customers.
While some food trucks opt for a single large commercial refrigerator, others prefer to have multiple smaller units to help maximize space.
It's important to note that your refrigeration equipment needs to be reliable and durable as it will be in constant use throughout the day, every day. Therefore, it's probably not a good idea to buy refrigerators that are several years old.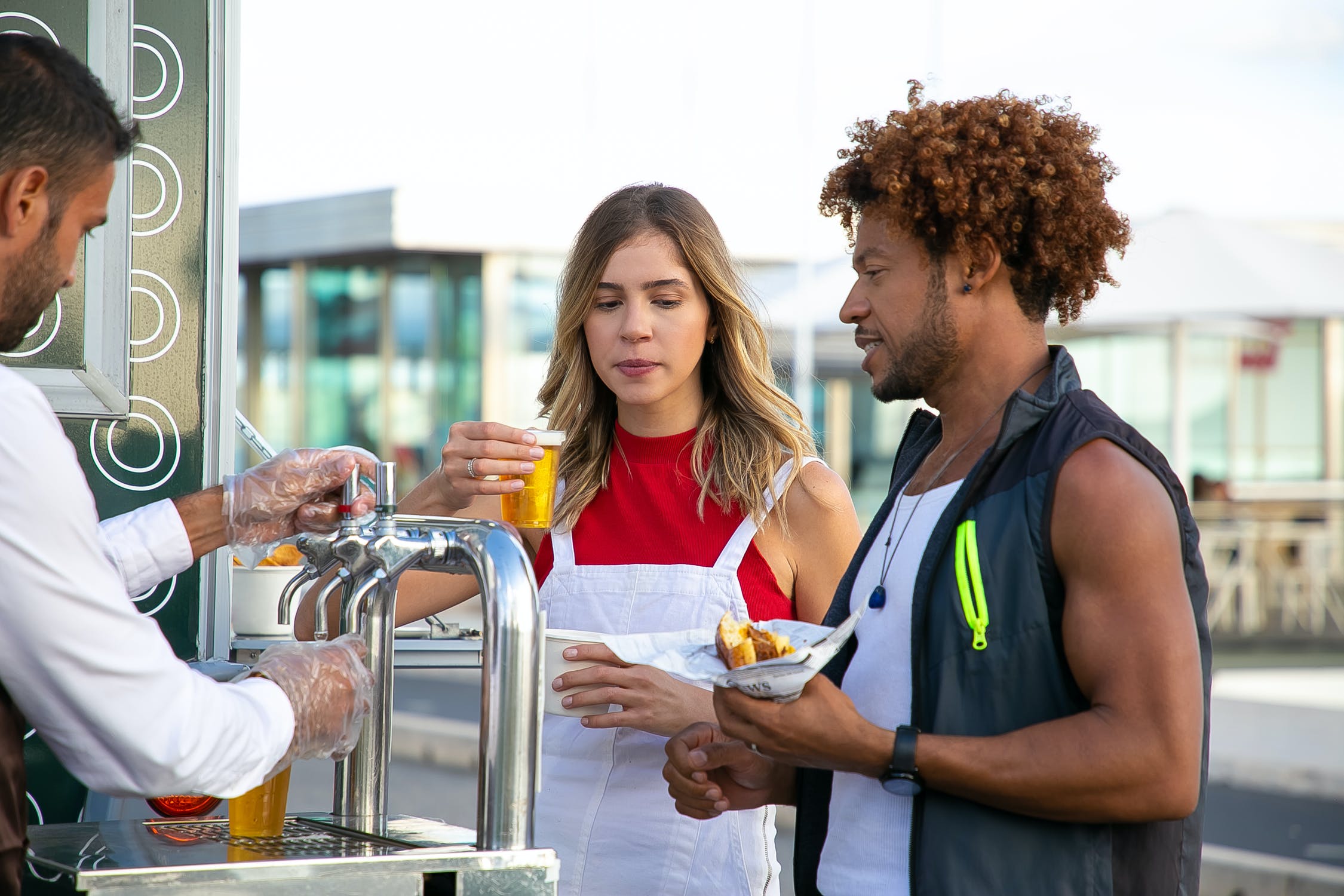 Cooking Equipment
Of course, the most critical element for any food truck is the cooking equipment. The type of cooking equipment you need will be determined by the cuisine style you're serving as well as the menu items you'll be preparing. For example, if you're planning on serving pizzas, you'll need a pizza oven.
Other common cooking equipment essentials include:
Stovetop
Oven
Grill
Deep fryer
Again, it's important to remember that this equipment will be in constant use, so you need to make sure that it can withstand the rigors of a busy food truck kitchen. It might also be an excellent idea to buy portable versions of any of the above so that you can move your cooking equipment around to maximize space.
Preparation Stations
Whether you're making fresh subs, burgers, tortilla wraps, or any other highly customizable menu item, you might want to invest in a prep station that lets you have all of your ingredients ready and waiting to go.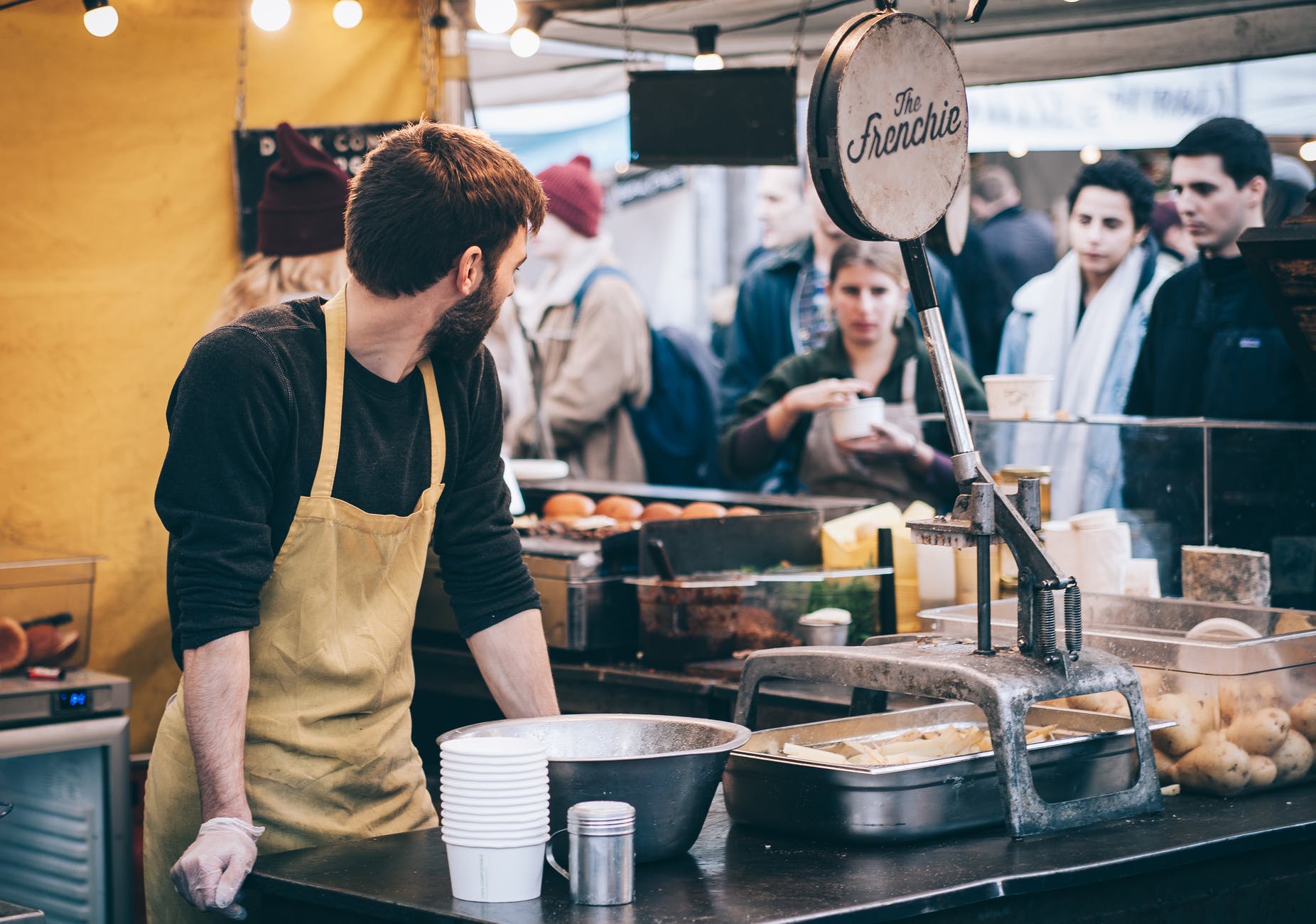 Ideally, you will either make use of a commissary kitchen or do the heavy lifting on your prep work at home before heading out for the day, saving you considerable time when it comes to sending orders out of the kitchen. However, if you cook each menu item to order, you might need space or a workstation to quickly take care of the prep.
Storage Space
One of the most overlooked food truck business costs is installing adequate storage space. It's no good having all of this equipment if you don't have any space left to store your ingredients, cooking utensils, and serveware.
You will need storage for non-perishable items such as canned goods, spices, and seasonings as well as areas to house your cooking equipment, including but not limited to:
Pots and pans
Chef's knives
Tasting Spoons
Spatulas
Ladles
Tongs
Towels
Serveware (plates, platters, bowls, serving plates, bowls, etc.)
Cutlery (knives, spoons, forks, serving utensils)
Napkins (paper towels)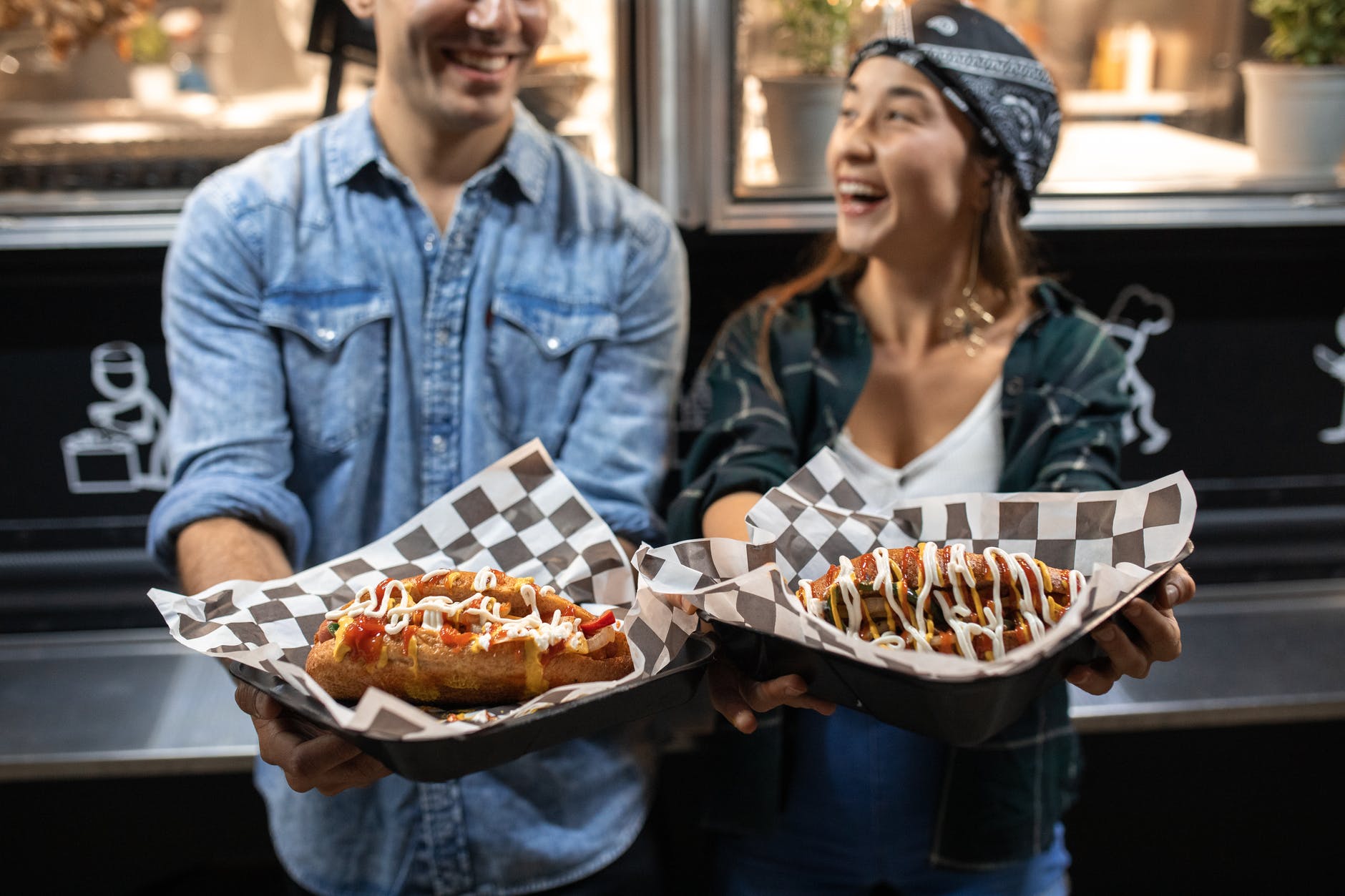 When deciding on the best storage solution for your food truck, try to utilize as much vertical space as possible. This will help to keep your food truck feeling open and spacious rather than cramped and cluttered.
Sinks
Sinks are a crucial investment for your food truck, providing you with a place to wash your hands, prep food, and clean cooking equipment. They are also a legal requirement for mobile food facilities selling non-prepackaged food under the California Retail Food Code, Section 114311.
When installing and positioning your sink(s), you need to strike the right balance. It's essential to make sure that your sink(s) are large enough to accommodate the needs of your food truck business while being easily accessible. You also need to consider their water supply and where you might install your water tanks.
Cash Register/POS Terminal
Obviously, you need to invest in POS equipment that allows your customers to pay for their food (and drinks, if applicable). Rather than opting for a central, traditional POS terminal, it might be wise to choose a handheld POS device that can take all of your payments while taking up minimal space.
Leading models from POS solutions providers such as POSTRON can accept contactless card and smartphone payments via NFC technology and be linked to QR code menus to facilitate frictionless ordering (rather than having customers physically wait in line).
Serving Counter
It can be easy to forget that you need to dedicate a significant area of your food truck footprint to serving space so you can interact with your customers and serve them their food.
While you don't usually need anything more than a countertop, think about how you can incorporate some of the equipment above into this area to create a more efficient workflow. For example, if you're using a handheld POS device, it might be helpful to have it mounted on the sidewall of your service space so it's always within reach.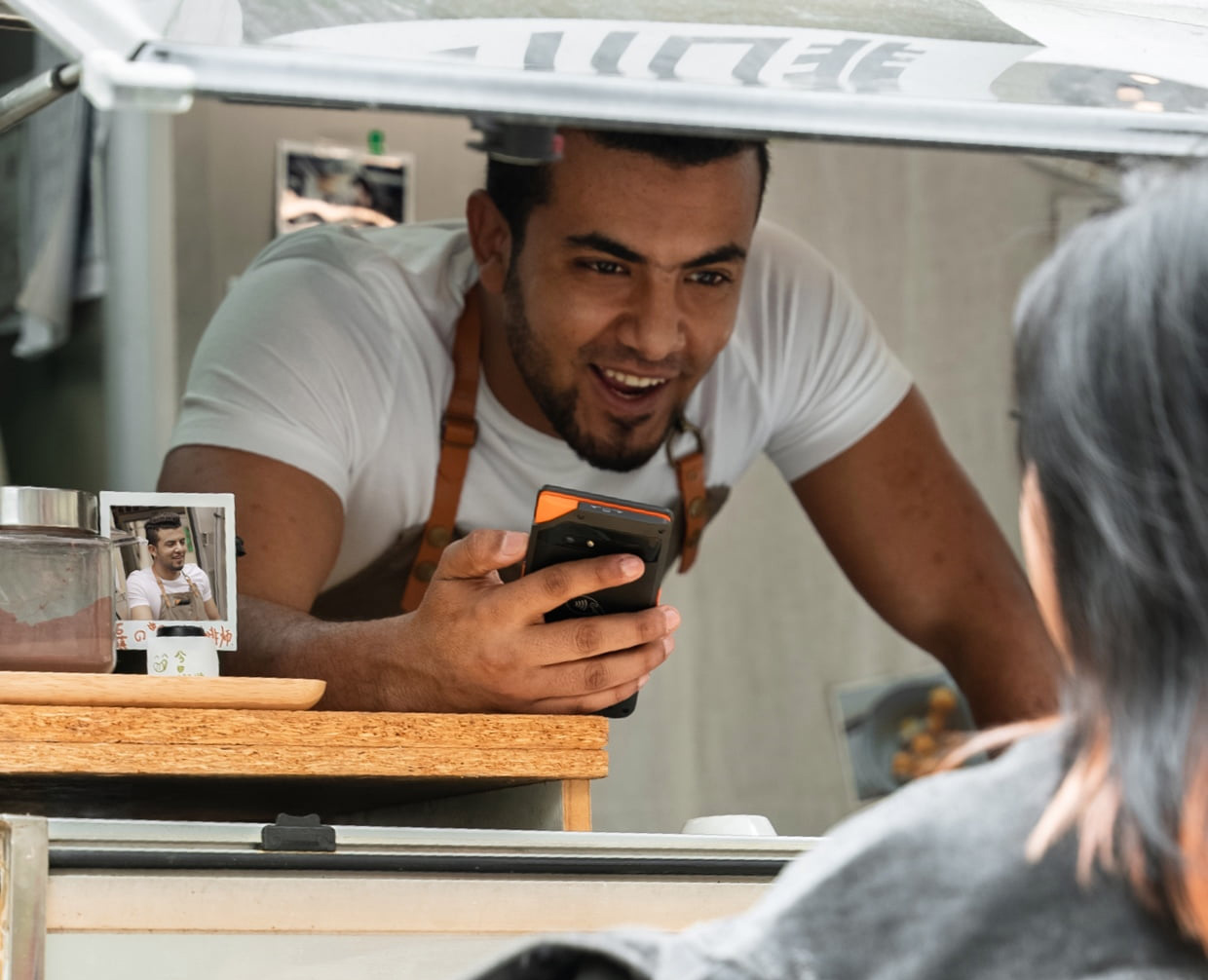 Ventilation Equipment
Installing a proper ventilation system is critical to maintaining a safe workspace and is a legal requirement for food trucks across most jurisdictions. Some food truck equipment, such as fryers and griddles, produce a lot of smoke and grease, so you need to ensure that your ventilation system is powerful enough to extract damaging or toxic pollutants emitted from your chosen equipment.
You should also consider the positioning of your ventilation equipment. It's important to ensure that it's installed close enough to your cooking equipment to be effective.
How to Create the Perfect Food Truck Layout for Your Business
No two food trucks are identical. However, there are some key things that you need to consider when planning the internal layout of your truck to ensure that it's fit for its purpose.
Irrespective of the size of your food truck, you will likely have a "galley kitchen" layout, with equipment laid out across either side of the vehicle and space in the middle to navigate between each section.
When it comes to the positioning your food truck equipment, there are a few key things that you need to keep in mind:
Ensure that your appliances and cooking equipment are close together to streamline your workflow.
Incorporate your ventilation system into your layout to ensure that it's effective.
Position your serving counter in a way that makes it easy for customers to order and pay for their food.
Plan your storage areas so that they are easily accessible and close to the equipment that they're associated with.
The best way to achieve the perfect layout is by mapping out a floor plan of your truck before you start kitting it out with equipment. This will help you visualize how each area will work together and ensure that you make the most of the limited space you have.
By following these simple tips, you can create a functional and efficient layout for your food truck that will help to optimize your operations.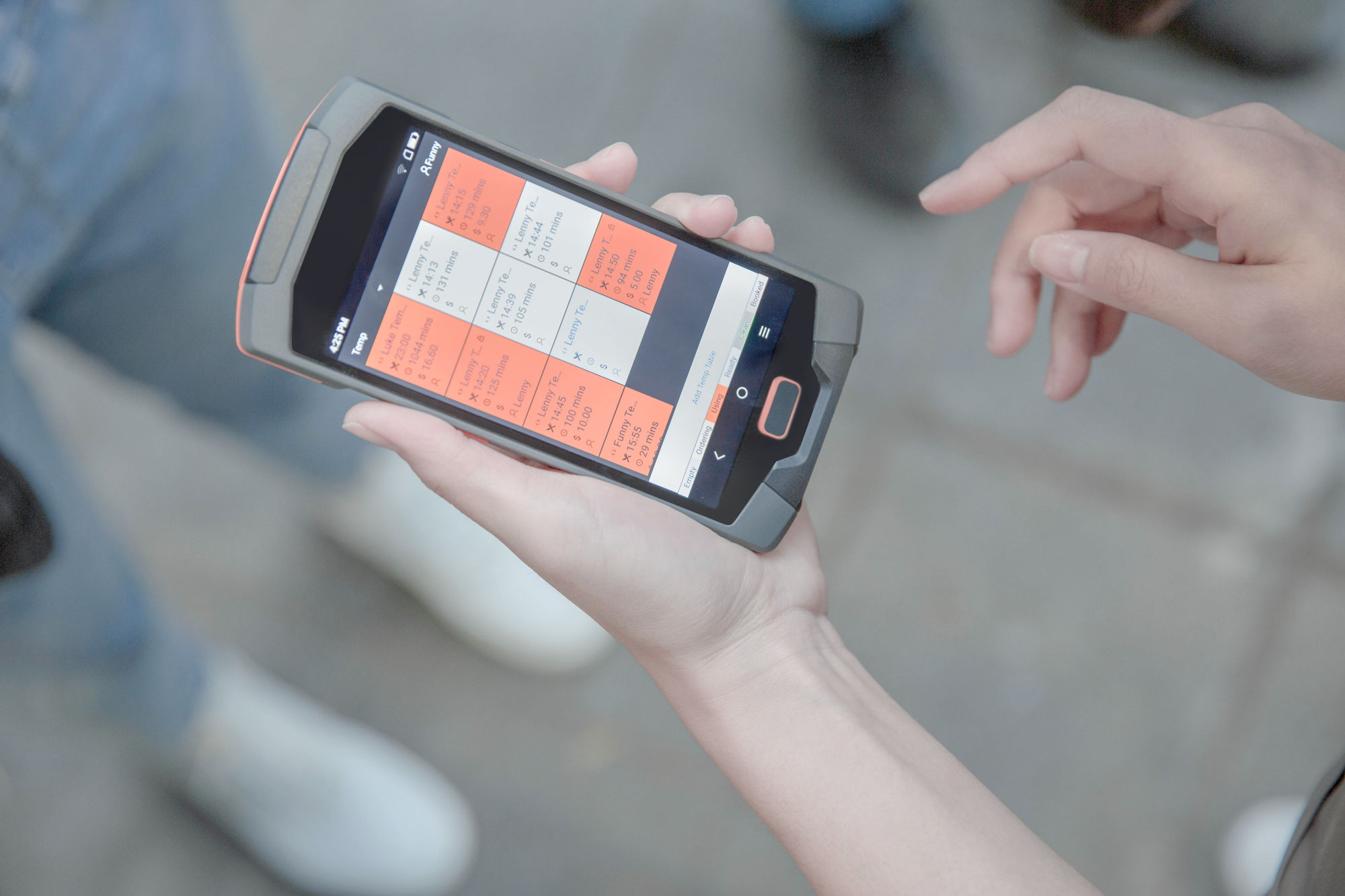 Speak to POSTRON Today Regarding Your Food Truck POS System
At POSTRON, we help food truck business owners across the country to optimize their operations and maximize sales with our innovative and easy-to-use POS solutions.
Our handheld POS terminals are the perfect addition to any food truck business. They occupy minimal space and can be integrated with QR code menus and online ordering software, so customers can order without having to physically wait in line.
What's more, our POS software provides you with valuable insights into your business, so you can make informed decisions about how to improve your performance.
If you're looking for a POS system for your food truck business, contact POSTRON today. We offer a range of flexible and affordable plans to suit food truck businesses of all sizes, and we are currently offering $300 cashback on new account sign-ups for a limited time only.