8 things you need to think about when choosing POS software for your new restaurant
When opening a new restaurant, you're going to need to invest in a point of sale (POS) system to give you the ability to process both credit and debit card transactions. It's one of the biggest financial decisions you're going to make when setting up a restaurant, second only to fit your kitchen.
There's plenty you need to think about when choosing a restaurant POS. What might be the best restaurant POS system for another restaurateur, might not be the best for your setup. From the hardware to the included reporting, the choice you make could be a difference-maker to the success of your new venture.
With that in mind, we've compiled a thorough list of considerations you need to think about before pulling the trigger on a POS system for your restaurant.
1.POS Hardware and Operating Systems
One of the most significant investments you're going make as a new restaurant is in the hardware (and software for that matter) that runs your restaurant POS system. All POS systems vary slightly; some may use Apple products (such as iPads); others may prefer Android tablets. In some devices, there are custom hardware devices explicitly built to work with custom software.

You've got to think about what your front-of-house staff is going to be most comfortable using, would an iPad POS system work well with your current roster of servers and bar staff? But it's not just iPads; POS systems require investment into all kinds of hardware to ensure it runs smoothly including:
Mobile devices (such as iPads, tablets, handheld devices)

Payments hardware (e.g., touch-screen cashier device)

Printers

Wiring for stationary hardware

Upgraded Wi-Fi infrastructure
It's essential to clarify with providers what the minimum hardware requirements are before signing any contracts to avoid any nasty surprises down the road.
2. Is the POS System Restaurant-Specific?
POS systems should never take the form of a "one size fits all" model. While many POS features in retail are transferrable between sectors, restaurants have specific requirements which need to be catered for. Therefore, you need to consider whether the POS has been designed specifically for the restaurant industry.
This is important because generic retail POS systems won't be able to handle basic tasks such as adding or removing ingredients from an order, splitting bills, or sending orders directly to the kitchen printer. Don't make the mistake of trying to use a cheaper general POS. You need to choose one that suits your particular operation.
3. How Does a POS System Fit Within Your Business Model?
Picking up on a similar theme, you need to think about your business model when implementing a new restaurant POS system. Are you opening a fast-casual dining concept that would be better suited to servers carrying handheld POS devices as they rove between tables?
4. Can The POS Scale as You Do?
Restaurants are a business at the end of the day, and growth is always the objective. Within months, your successful concept could be adding its second, third, or even fourth locations. If those are the types of projections that you're looking at, can your POS scale with you. How easy is it to additional POS devices to the network? Can they report figures by location within one solution?
Will each restaurant require the same level of initial investment, or can your potential POS provider leverage cloud-based technology to easily integrate and add new sites and devices to your portfolio? Remember, you can be tied in with a POS system for several years, so if scaling isn't easy, it could inadvertently put the handbrake on your business growth for years to come.
5. Data and Insights
Quality data and analytics retrieved from your POS system can help drive critical decisions about staffing levels, promotions, menu changes, and expansion potential. The best POS systems help you to improve performance by providing rich data. For instance, you can pull billing data sorted by staff members to see who's upselling and who isn't.
Leading POS system providers effectively provide an all-inclusive restaurant CRM by building customer profiles. For instance, you can pull out a list of customers who haven't visited in more than a month based on your payment data. You can then target them with a promotion to win back their business.
Consistently slow sales on a Tuesday? Run a two-for-one deal on the main courses and monitor the effect it has on the back end. The more encompassing your data, the better the POS will pay back its initial investment.
6. Integrations
For the best results from a POS, compatibility is critical. You don't want to waste additional labor hours on simple data entry transferring from your POS to your accounting software. You need this process to be automatic so you can focus your attention on attracting and retaining customers.

What about inventory management? Can POS help to alert you when key ingredients are low by integrating with your purchasing and inventory management software? Or perhaps it can be provided within the POS solution itself? Then you've got to look at the most essential integration of them all, payment processing. Does your restaurant POS system provide an all-in-one solution for your payments?
Or perhaps you are launching a fine dining restaurant whereby your servers will have time to enter each order on a stationary POS device, taking bill payments at the bar. Your business model will not only determine how much you invest in items such as hardware and software, but it will have a significant influence over which POS systems are the best fit for your new operation.
7. Costs and Contracts
Once you've considered all of the above, you're going to have to consider initial costs. Not to mention the contracts that often accompany restaurant POS systems. Of course, when meeting with a rep this will be one of your first questions, but it's not a simple one to answer. First of all, there are several different pricing models. For instance, some providers give away hardware for nominal prices before taking a sizeable monthly fee for software and integrations.
Then you've got to look at contracts attached to those monthly fees. Are you tied up for several years at a time? Initially-attractive prices may be offset by the fact that you're stuck for the next four years with a POS system that you might turn out to hate within a few short months. Then you've got to factor in associated fees such as those levied on processing credit cards. Do they scale as your payment volume scales? Or are they flat fees?
All of these are important considerations when starting a new restaurant. One crucial decision made at this stage could have a significant influence on your success further down the road.
8. What's the Likely ROI?
Linked closely to your cost and contract considerations is the return on investment (ROI) that a POS system can provide. While there's no doubt that the initial investment can be considerable, the best restaurant POS systems more than pay for themselves. For example, an easy-to-use POS may take just a few hours of staff training before becoming operational, as opposed to a more sophisticated counterpart.
As mentioned, integrations can help you to save both time and money through better accounting and inventory management. It can also morph into an effective restaurant CRM program, regularly providing opportunities to increase business from existing patrons, including loyalty programs.
Finally, it can provide incalculable value by centralizing everything within your operation: sales, inventory, staffing levels, suppliers, and customers. These systems are capable of tracking everything in one place, creating a competitive advantage through efficiency. While you may be scared by the initial outlay, scrimping on a POS system will rarely pay off in the long run.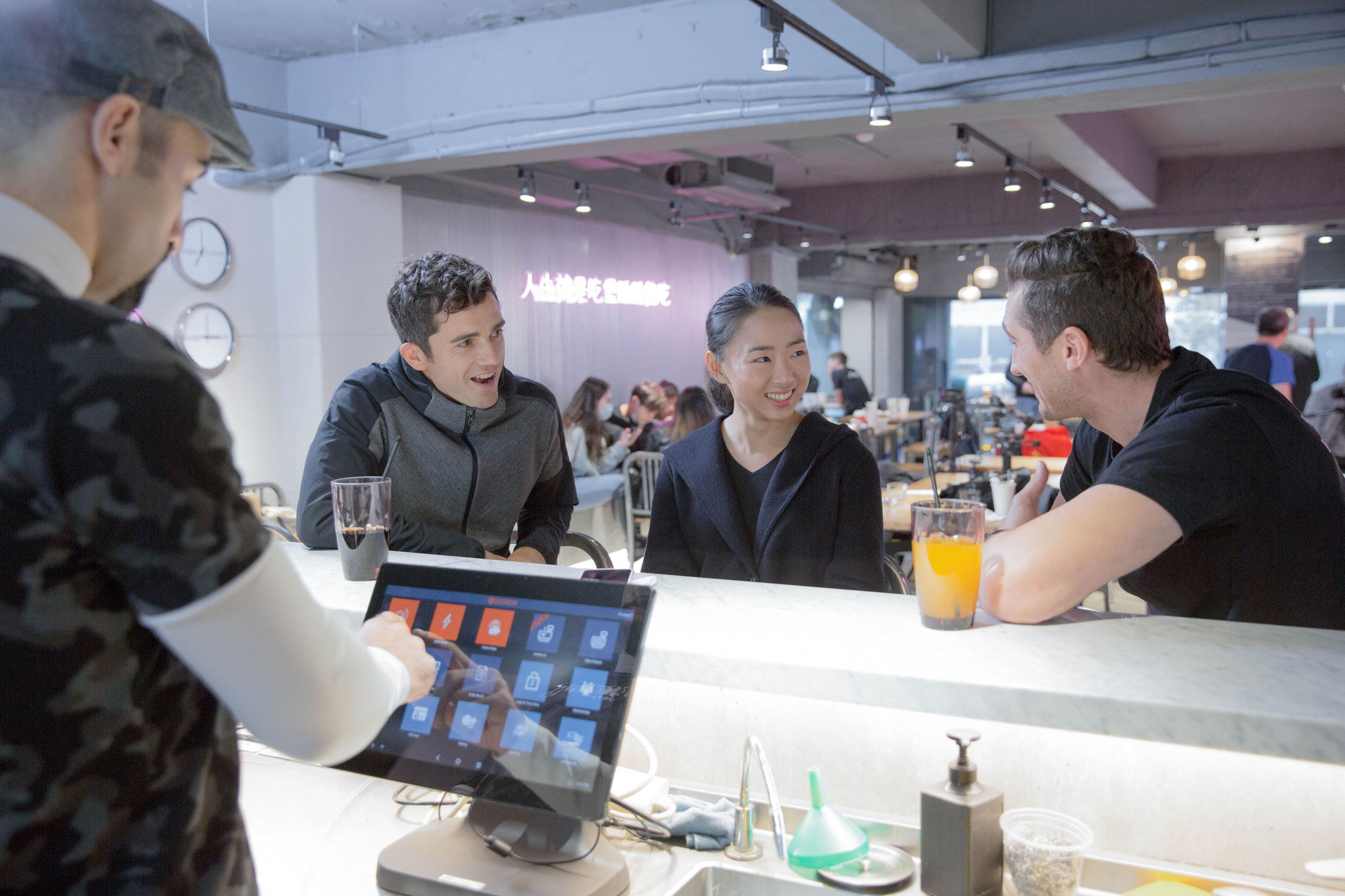 Make the Right Choice for Your New Restaurant
Here at POSTRON, we've created a one-stop POS solution for your restaurant. Whether you're a dine-in restaurant or a startup food truck, we have a customized POS system for you.
We can provide a wide range of hardware, from handheld POS terminals to in-situ cashier devices. Better still, we provide an all-in-one processing solution that allows your restaurant to glean critical real-time information and enhanced analytics. Monitoring your inventory, tracking the sales performance of your team, and creating loyalty programs for your customers has never been easier.

If you would like to find out more about how POSTRON can transform the success of your new restaurant, talk to a member of our team today to discuss your requirements.