How to choose the best POS software for your quick-service restaurant?
The underlying principle of any quick-service restaurant (QSR) is to deliver orders quickly. Those coming through your doors are going to expect that speedy delivery to be accompanied by consistency. To achieve that consistency, both local and nationwide QSRs leverage technology in the form of their point of sale (POS) systems.
Today the best POS systems go far beyond billing and payment processing. They form an integral part of streamlined operations that need to deliver orders as fast as possible without losing any control over the restaurant management side of the business.
Therefore, if you're a new QSR, what should you be looking for when choosing your restaurant POS system?
1. Quick Order Taking
Speed is everything when it comes to choosing your POS system. With leading global chains selling 75 hamburgers a second, your chosen system has got to be able to handle hundreds (if not thousands) of orders per hour with ease.
Your customers depend on you to deliver their food quickly, whether they're late for work and need breakfast on the go, or they're picking up some food on the way to their kid's soccer practice, slow order taking will not be tolerated.
With that in mind, you've got to assess the hardware and software options available to you. Touch screen POS devices allow servers to take orders quickly, and cloud-based software enables that information to be sent seamlessly to the kitchen to start preparing the order immediately. In today's age, entering orders manually is no longer an option for QSRs.
2. Order Preparation
Modern QSR POS systems are just as vital to the kitchens of these restaurants as they are to processing payments. The speed at which an order is sent from the original POS device to the kitchen can make all the difference in securing speedy delivery.
The best restaurant POS systems can achieve this in a mere matter of seconds, which means before your driver has even had the chance to drive their vehicle around to the payment window, restaurant staff can already be working on their order. QSR POS systems can also help to determine optimal workflows so that there is little (if any) slack within the order preparation schedule.
For instance, if a customized order comes in that requires extra preparation time, the system can recognize that fact and push other standardized orders ahead in the queue in the meantime. Allowing any additional waiting customers to get out of the door or the drive-through lane without any unnecessary delays.
3. Online Order Integration
For QSRs that offer online orders and deliveries, a cloud-based POS system comes into its own. For leading QSRs, online revenues account for a sizeable proportion of revenues, so it's essential to add this functionality for your restaurant(s). Leading QSR POS systems can integrate with leading food-delivery apps such as Uber Eats, your website orders, or with an app if you have one.
You need a POS system that seamlessly indicates to the nearest of your outlets ahead of time that an order is coming in so that preparation can already get underway. POS systems can balance these online orders against on-the-ground demand to help the kitchen maximize output and minimize delays.
4. Ease of Use
It's not useful if your restaurant POS has incredible levels of functionality, but it's difficult to understand, and servers often make mistakes while inputting orders as a consequence. Menu alterations, split payment options, and customized drink requests all have to be inputted quickly and efficiently without slowing down the order-taking process.
This is also the case if you decide to upgrade to customer-facing POS systems in the future. If your customers find it hard to use the touch-screen devices to place their orders, then they are going to become frustrated and give up. The design needs to be intuitive to be a success in the fast-paced environment.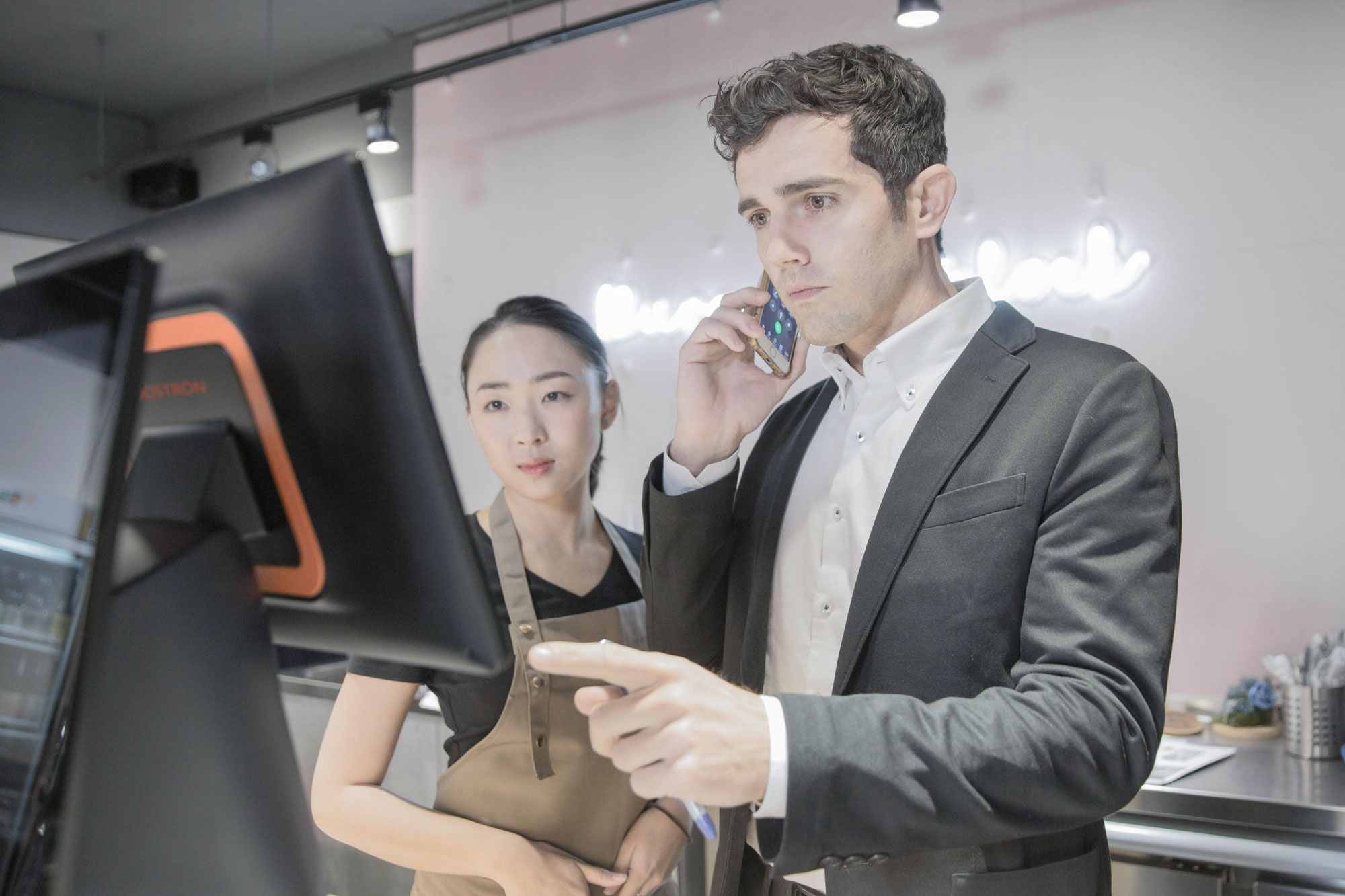 5. Inventory Management
On a similar note, the rapid pace of service brings inventory management into an even sharper focus in this kind of environment. Managing your stock levels as they change by the second is no longer possible to do as a human being; you need to leverage technology to get real-time data.
That's where a sound QSR POS system comes in. Not only can it give you that real-time data with which to make critical inventory decisions, but it alerts you to certain ingredients that are running low, generates stock estimations based on patterns of consumer behavior, and give operators this functionality across many outlets at the same time if necessary.
6. Growth Potential
While POS systems frequently work within one location, the unique economies of scale presented by QSRs mean that if you land success with your first restaurant concept, you need to have a POS system that can scale with you.
Processes such as onboarding new devices at new locations need to be seamless, doing away with the need to run through costly and time-consuming integration procedures. Secondly, a POS needs to provide a multi-location solution, providing critical data from all outlets within one centralized cloud-based interface.
Choose a Quick-Service Restaurant POS System That Meets your Needs
Here at POSTRON, we've created a one-stop POS solution for your quick-service restaurant. Whether you're a one-location startup, or you have a dozen outlets state-wide our customized POS systems are more than capable of accelerating your business growth.
We can provide a wide range of hardware, from handheld POS terminals to touch screen cashier devices. Better still, our all-in-one cloud-based processing solution allows your restaurant to glean critical real-time information and enhanced analytics across multiple locations. Monitoring your inventory, tracking the sales performance of each outlet, and managing stock remotely are all useful features of the POSTRON suite of solutions.
If you would like to find out more about how POSTRON can turbo-charge the success of your quick-service restaurant, talk to a member of our team today to discuss your requirements.